Title: Worth The Waits
Source: Time Out magazine (UK), by Brian Case. Compiled from earlier interviews ("Tom Waits For No Man", Melody Maker, October 29, 1983.) Thanks to Kevin Molony for donating scans
Date: November 11-18, 1987
Key words: Franks Wild Years, Musical influences

Magazine front cover: Time Out (UK). November 11-18, 1987
Accompanying pictures

Page lay-out (first page of article). Thanks to Kevin Molony for donating this scan
"Blow Wind, Blow"/ Island promo picture, 1987. Video directed by Chris Blum. Thanks to Kevin Molony for donating this scan

"Franks Wild Years"/ Island promo picture, 1987. Thanks to Kevin Molony for donating this scan
Worth The Waits
With his freakish, low-life trilogy completed at last with 'Frank's Wild Years', Tom Waits shuffles out of the beer bars and into the Hammersmith Odeon.
Hang on St Christopher through the smoke and the oil
Buckle down the rumble seat, let the radiator boil
Got an overhead downshift and a two dollar grill
Got an 85 cabin on an 85 hill
Hang on St Christopher on the passenger side
('Hang on St. Christopher' from 'Frank's Wild Years')
The petrol pump from Edward Hopper's 'Gas'(1), half a Buick and a grainy painted highway perspective like a photo by Robert Frank(2), a streetlamp, an overstuffed armchair beside a sunset-front radio... All of Tom Waits's shows in recent years have reached out tentatively beyond the mission hall piano-and-vocals of his Ronnie Scott's residency over a decade ago(3), to stage the snapshots of loser's America that jolt through his lyrics; they now must have tuba, trombone, banjo and accordian, and an emcee on the order of Pee Wee Marquette with a pencil-thin moustache and a Mexican accent. The shows next week(4) are the closest we'll get to last year's stage musical of 'Frank's Wild Years' in Chicago, something he'd dreamed of since way back. It started life as a song on the album 'Swordfishtrombones', the life of Frank engendering connective tissue on 'Raindogs'. 'Yeah. Just eavesdropping on an insurance investigator in California. Added my own funhouse mirror.' He chafes the back of his head like a rum-dum rotating a bowling-ball to locate the fingerholes, and his growling white negro delivery just about swats the trigger-words. 'See, it's really all around you all the time. Just a matter of framing it. You gotta catch it - make sure your umbrella is upside down.'
His musical, co-written with his wife Kathleen Brennan, got side-tracked for a while by 'Down By Law'. Waits and Jim Jarmusch started out to collaborate on a screenplay for 'Frank's Wild Years', but it unravelled so they ditched it and made a different movie together. 'Tom and I have a kindred aesthetic, ' Jarmusch told me. 'An interest in unambitious people, marginal people.' You spilled a bibful, Jim. Waits finally opened his show in Chicago last summer where it was performed by the famous Steppenwolf Theatre Company, playing to full houses for three months.
'It's the story of a guy from a small town who goes out to seek fame and fortune, but he steps on every bucket in the road. Frank's no champion. We start him off on a park bench in East St. Louis - despondent, penniless, freezing - but he dreams his way back to the saloon where he began.' As he explains, his hands move in carny's misterioso. Any straight explanation presents problems to the Waits persona. It's like watching some knock-nutty pug still indelibly inked as The Kid trying to pick up some chump-change from the canvas in six-ounce Everlast gloves. 'Well, uh, all of Frank's shortcomings rise up before him, right in the middle of him bragging in the bar.'
In the London show we won't be getting much of the 'Operachi Romantico In Two Acts', but we will be getting much of the music and some of the props. The music defies classification - or, rather, it suggests a trawl through the wavebands of the world. Mariachi, rhumba, Louis Prima, Cubano, Morricone, Rudy Vallee, tent-show evangelism, reggae, R&B. 'Most of the instruments can be found in any pawnshop,' he says. 'I haven't completely joined the twentieth century.' And on the album of the show he sings through a $29.95 police bullhorn. 'Once you use a bullhorn, it's hard to go back.'
He's a hard guy to figure. I'd been on the road with him in Denmark(5) near the start of his rise when he was still prepared to distinguish between act and self. He wasn't a loser, I told him, and wasn't he romanticising failure? Boy, I was beady back then. "I guess so. Two impostures, huh?' he chuckled. 'I don't care who I hafta step on my way back down.' And, unable to believe that voice. I'd hidden under a table one morning to see if he kept it up when he ordered breakfast alone. He kept it up all right, though he didn't match pennies to break the ol' monotony. The nighthawk stuff was true too. I told him a story about Durham miners' wives who buy butcher's hooks, decorate them with sequins, and stab them into the bar counter as hangers for their handbags on Ladies' Night Out, and he told me how alcoholics with the shakes can get a drink to the mouth by using the tie as a pulley, then we wound up in a Copenhagen bar on whisky cure with the All-Woman Eskimo Chapter of the Hell's Angels.
Yes, truly, Tom Waits scenarios attend him. Everywhere is Palookaville. How do you separate the man from the legend? 'I was born in the back seat of a Yellow Cab in a hospital loading zone and with the meter still running I emerged needing a shave and shouted, "Times Square and step on it!" Well, we do know he scuffled for years - dishwasher, toilet attendant, fireman, ice cream van driver, bartender ('I was a jack-off of all trades'), doorman - before he finally climbed on the stage at The Troubadour in LA back in 1972 and delivered the Ray Charles songbook. 'I admire Lord Buckley, Lenny Bruce, Wally Cox, Mose Allison, Crazy Eddie, Rodney Dangerfield, Harry 'The Hipster' Gibson ('let's smoke up the joint so a man can breathe'), Symphony Sid, Fran Landesman, George & Ira Gershwin, Jerome Kern, Harold Arlen, Cole Porter, Prez(6), Bird, Monk, Bud Powell, Johnny Hartman, Nat King Cole, Steve Allen, Charles Bukowski, Nelson Algren, and when I grow up I want to be a promo man.'
He's parlayed what started as a hip coterie taste beyond the bars to the big auditoriums where they dress up to listen to his songs about grifters, panhandlers, no-hopers, barflies, bloodbank regulars and pavement coloured citizens who are strangers to everything but disease and policemen. He has branched out into movies - 'Rumble Fish', 'One From The Heart' and 'Cotton Club' for Coppola, 'Down By Law', 'Paradise Alley' and , currently, 'Ironweed' for Babenco - slanting half a yard of jawbone and a billy goat goatee into every part with the laconic naturalness of the late Hoagy Carmichael. See ya on the other side of The Big Moist, my man. 'Huh. How can I miss ya if ya won't go away?' At least he didn't use the bullhorn.
'Frank's Wild Years' is available on Island records. Tom Waits will be playing the Hammersmith Odeon Nov 19-22. See Music listings.
Notes:
(1) The petrol pump from Edward Hopper's 'Gas': Edward Hopper, 1940 Oil on canvas 26 1/4 x 40 1/4 inches The Museum of Modern Art, New York.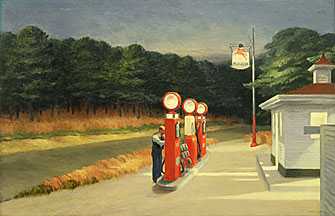 (2) Robert Frank: Frank and Waits got acquainted in 1983, as Waits was temporarily living in New York and working on 'Swordfishtrombones'; - The album 'Rain Dogs'. Album released: September, 1985. Back cover photo; - The movie 'Candy Mountain' (shot late 1986, released 1987). Waits plays rich guy 'Al Silk' and performs: "The Big Rock Candy Mountain" & "Once More Before I Go". Director;
(3) His Ronnie Scott's residency over a decade ago: Ronnie Scott's Club, Soho/ London. May 31 - Jun. 12, 1976. Further reading: Performances
(4) The shows next week: November 19-22, 1987. Hammersmith Odeon. London/ UK. Further reading: Performances
(5) I'd been on the road with him in Denmark: as told about in "Wry & Danish To Go" MelodyMaker magazine, by Brian Case. Date: Copenhagen. May 5, 1979.
(6) Prez: Nickname of saxophonist Lester Young.