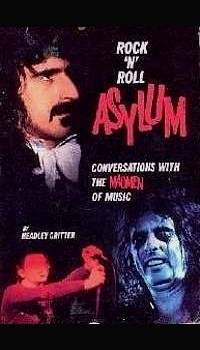 Rock 'N' Roll Asylum - Conversations With The Madmen Of Music (1984)
Author: Headley Gritter (Australia)
Publisher: Putnam Pub. Group. Published: October, 1984
ISBN: ASIN 0933328737
Format: 320 page paperback. Features interview with Tom Waits by Headley Gritter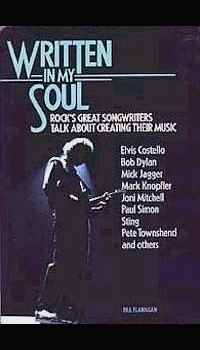 Written In My Soul - Rock's Great Songwriters Talk About Creating Their Music (1986)
Author: Bill Flanagan
Publisher: Contemporary Books (Contemporary Publishing), 1986
ISBN: 0809251531 (1986), 0809246503 (1987 paperback)
Format: 472 page hardcover/ paperback. Features interview with Tom Waits by Bill Flanagan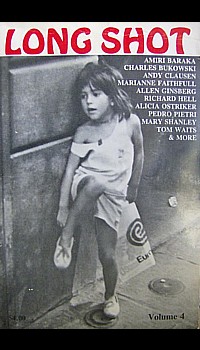 Long Shot vol. 4 (1986)
Author: various artists, edited by Eliot Katz and Danny Shot.
Publisher: Long Shot Productions 08903, New Brunswick, New Jersey, 1986
ISBN: N/A
Format: softcover poetry anthology. Features "Rainville" by Tom Waits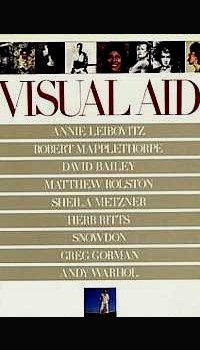 Visual Aid (1986)
Author: edited by James Danziger
Publisher: Pantheon Books. November, 1986
ISBN: 039455664X
Format: 144 page hardcover photobook. Features Tom Waits picture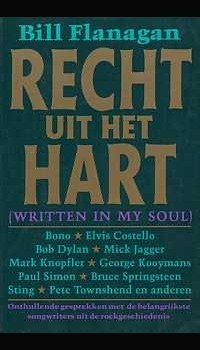 Recht Uit Het Hart - Written In My Soul (1986)
Author: Bill Flanagan. Translated to Dutch by Annelies van Dijk
Publisher: Uitgeverij Luitingh B.V./ Utrecht, 1988. Originally published as "Written In My Soul", 1986
ISBN: 9024517931
Format: 414 page paperback. Features interview with Tom Waits by Bill Flanagan (translated in Dutch)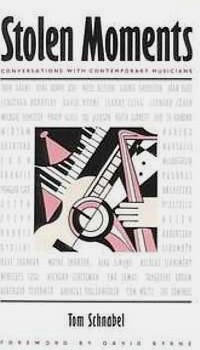 Stolen Moments - Conversations With Contemporary Musicians (1988)
Author: Tom Schnabel
Publisher: Acrobat Books, 1988. Published: February, 1988
ISBN: 0918226139
Format: 221 page paperback. Features interview with Tom Waits by Tom Schnabel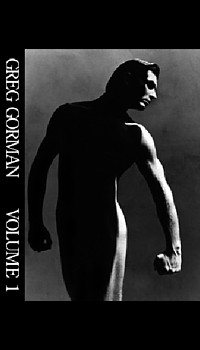 Greg Gorman - Volume 1 (1989)
Author: photobook by Greg Gorman
Publisher: CPC Publishing. Published: January, 1989
ISBN: (ASIN) B002GEKDMS
Format: 221 page paperback. Features a 1980 Tom Waits picture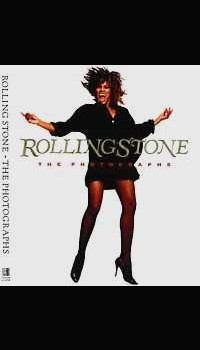 Rolling Stone - The Photographs (1989)
Author: Photobook by Tom Wolfe, Jann S. Wenner, Lauri Kratochvil
Publisher: Simon and Schuster cop. (Simon & Schuster Adult Publishing Group), 1989. Fireside (1993 reprint)
ISBN: 0-671-68097-8 (1989), ASIN: 0671880039 (1993 Reprint)
Format: Hardcover (1989), paperback (1993). Features Tom Waits picture by Matt Mahurin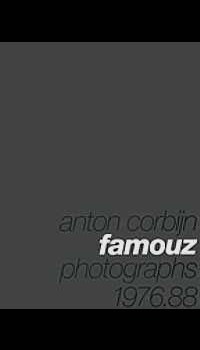 Famouz Photographs 1975.88 (1989)
Author: Photobook by Anton Corbijn
Publisher: Schirmer/ Mosel Verlag GmbH, 1989 (Germany). Reprinted 1997
ISBN: 3888143136
Format: Hardcover. 148 pages 105 duotone plates. Features Tom Waits pictures from 1983
Sylvia Plachy's Unguided Tour (1990)
Author: Photobook by Silvia Plachy
Publisher: Aperture, 1990
ISBN: 0893813931 (1990), 0893814318 (paperback reprint 1991)
Format: hardcover/ paperback (reprint). 130 duotone photographs. This book was accompanied with a 1-track instrumental Tom Waits CD (Serrano). Book features two Tom Waits pictures from 1985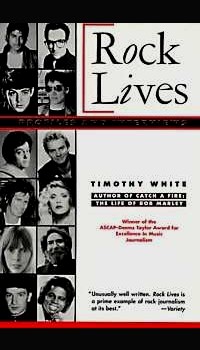 Rock Lives, Profiles And Interviews (1990)
Author: Timothy White
Publisher: Henry Holt & Company, Inc, 1990. Omnibus Press, 1992
ISBN: 0-7119-2803.7. ASIN: 0805013962 (November, 1990). ASIN: 0805018611 (reprint edition November, 1991)
Format: 828 page hardcover/ paperback. Features short Tom Waits bio by Timothy White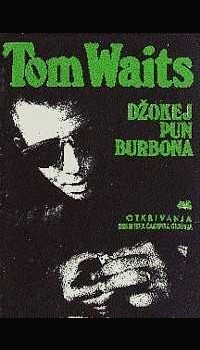 Jockey Full Of Bourbon (1990)
Author: Dragan Todorovic
Publisher:NIS, Yugoslavia, 1990
ISBN: ??
Format: ?? Serbian book with a short biography, some essays about Tom Waits' works and some translated lyrics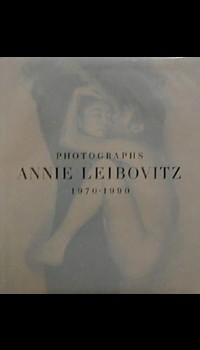 Photographs: Annie Leibovitz 1970-1990 (1991)
Author: Annie Leibovitz
Publisher: HarperCollins, 1991
ISBN: 0060923466 (reprint edition, 1992)
Format: 232 page paperback photobook. Features Tom Waits picture(s)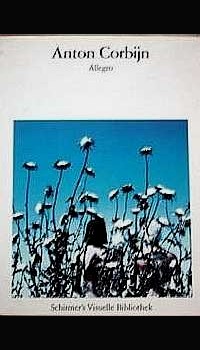 Allegro (1991)
Author: Photobook by Anton Corbijn (out of print)
Publisher: Schirmer/ Mosel Verlag GmbH, 1991 (Germany)
ISBN: ??
Format: Paperback, 112 pages 76 duotone and colour plates. Features Tom Waits pictures from 1983 (Famouz)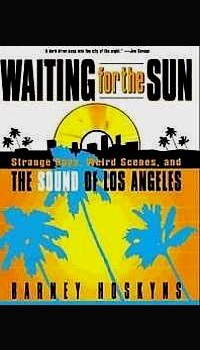 Waiting For The Sun (1996)
Author: Barney Hoskyns
Publisher: Penguin Group, 1996
ISBN: 0670850217
Format: hardcover with B&W pictures. Back ground information on Los Angeles music scene and interview excerpts with Tom Waits by Barney Hoskyns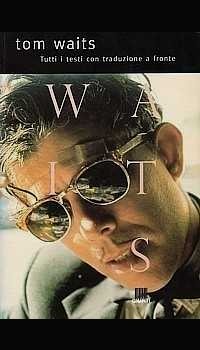 Tom Waits: Tutti I Testi Con Traduzione A Fronte (1996)
Publisher: Giunti Gruppo Edoitoriale - Firenze. © October, 1996. By Michele Lauro
Cover: photography by Dewey Nicks(notice reverse print)
ISBN: 8809210115
Format: 358-page paperback. Lyrics in English and Italian from Waits' pre-1996 releases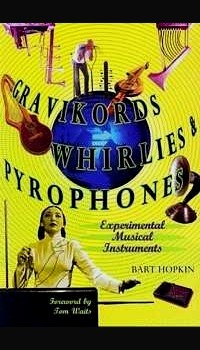 Gravikords Whirlies & Pyrophones - Experimental Musical Instruments (1996)
Author: Bart Hopkin
Publisher: Ellipsis Arts. October, 1996
ISBN: ASIN: 1559613823
Format: boxed set (audio CD and 96 page hardcover). Features foreword by Tom Waits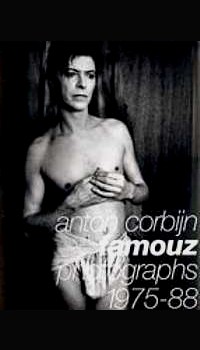 Famouz Photographs 1975.88 (1997)
Author: Photobook by Anton Corbijn
Publisher: Schirmer/ Mosel Verlag GmbH, 1997 (Germany). Originally published in 1989
ISBN: 3888148464
Format: Hardcover. 148 pages 105 duotone plates. Features Tom Waits pictures from 1983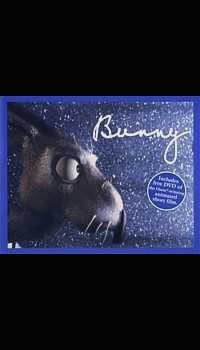 Bunny (1998)
Author: Chris Wedge (editor)
Publisher: I-Books. April, 2002
ISBN: 1590194799
Format: 32 page hardcover & DVD. Picture-book adaptation of the 1998 Oscar-winning animated short. Features "Bend Down The Branches" on soundtrack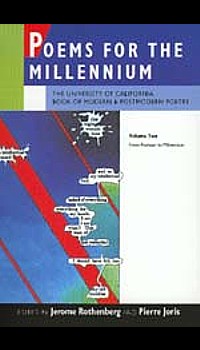 Poems For The Millenium - vol. 2: From Postwar To Millennium (1998)
Authors: Jerome Rothenberg, Pierre Joris
Publisher: University of California Press. April, 1998
ISBN: 0520208641
Format: 871 page paperback. Poetry anthology containing the lyrics of "Swordfisftrombones"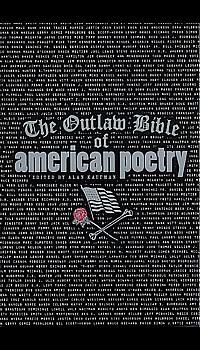 The Outlaw Bible Of American Poetry (1999)
Author: edited by Alan Kaufman
Publisher: Thunder's Mouth Press (Avalon Publishing Group), 1999
ISBN: 1-56025-227-8/ 1-56025-236-7
Format: hardcover/ paperback. Features lyrics of "9th & Hennepin"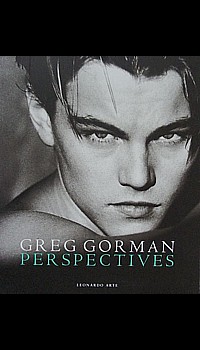 Greg Gorman: Perspectives (2002)
Author: photobook by Greg Gorman
Publisher: Janssen Verlag/ Arnoldische Art Publishers. September, 2002
ISBN: 3897900122
Format: 216-page hardcover. Features Tom Waits picture (Hollywood/ LA, 1980) by Greg Gorman. Picture earlier printed in "Greg Gorman: Volume 1" (CPC Publishing, 1989)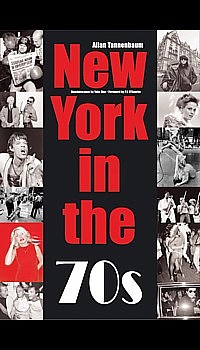 New York In The 70s (2003)
Author: photobook by Allan Tannenbaum (originally titled "SoHo Blues")
Publisher: Feierabend Verlag OHG. October/ November, 2003
ISBN: 3899850521
Format: 272-page hardcover. Features Tom Waits picture (Reno Sweeney. Greenwich Village/ NY, 1975) by Allan Tannenbaum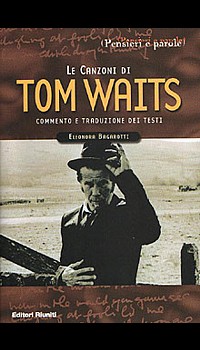 Le Canzoni Di Tom Waits (2003)
Publisher: Editori Riuniti, 2003 (Italy), by Eleonora Bagarotti
Cover: photography by Anton Corbijn
ISBN: 8886784163
Format: 344-page paperback. Lyrics and comments in Italian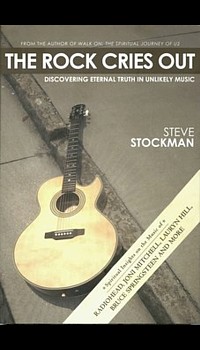 The Rock Cries Out: Discovering Eternal Truth in Unlikely Music (2004)
Author: Steve Stockman
Publisher: Relevant Books. February, 2004
ISBN: 0-9729276-5-4
Format: 192-page paperback. Features essay on Tom Waits ("Tom Waits: Misery Is The River Of The World")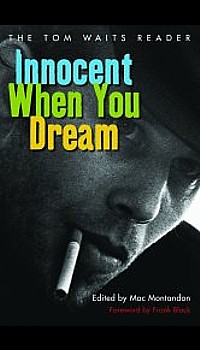 Innocent When You Dream (2005)
Author: Edited by Mac Montandon
Publisher: Thunder's Mouth Press, May 10, 2005
Cover: photography by Philip Gould
ISBN: 1-56025-667-2
Format: 400-page reader with articles, reviews and interviews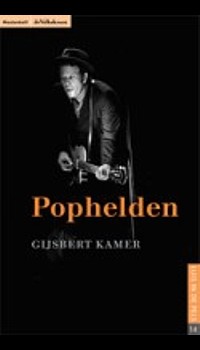 Pophelden (2005)
Author: Gijsbert Kamer
Publisher: Volkskrant/ Meulenhoff (The Netherlands). August, 2005
ISBN: 9029076348
Format: 176 pages. Features 3 interviews with Tom Waits (De Volkskrant 1999, 2002 and 2004)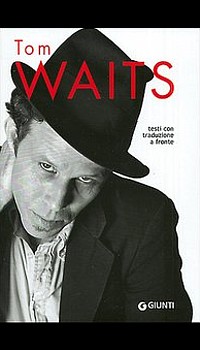 Tom Waits: Testi Con Traduzione A Fronte (2005)
Publisher: Giunti Gruppo Edoitoriale - Firenze. © 2005
Cover: photography unknown
ISBN: 8809038169
Format: 264-page paperback. Lyrics in English and Italian (including Real Gone)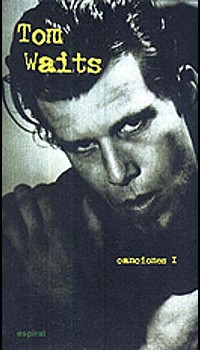 Tom Waits: Canciones I (2006)
Author: Edited/ translated by Alberto Cajal
Publisher: Editorial Fundamentos, 2006 (Madrid/ Spain). Serie Canciones Nº 319
Cover: photography by George Hurrell
ISBN: 84-245-1093-3/ 84-245-1092-5
Format: 160-page paperback with lyrics in English and Spanish from Waits' Asylum albums.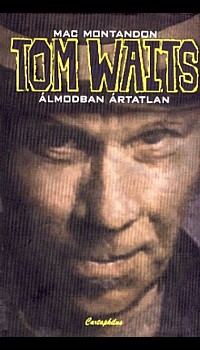 Tom Waits: Álmodban Ártatlan (2006)
Author: Edited by Mac Montandon
Publisher: Cartaphilus Könyvkiadó Kft. (Hungary), 2006
Cover: photography unknown
ISBN: 9637448349
Format: 350-page reader (Hungarian version of Mac Montandon's "Innocent When You Dream", 2005)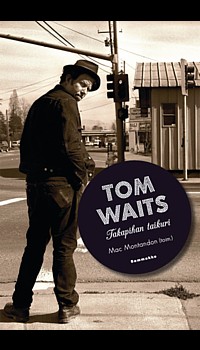 Tom Waits - Takapihan Taikuri (2007)
Author: Edited by Mac Montandon, translated by Sami Heino
Publisher: Sammakko (Finland), 2007
ISBN: 978-952-483-059-1
Format: 381 page reader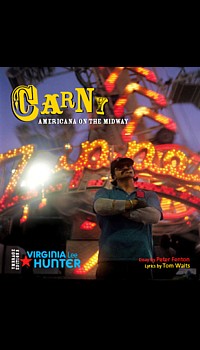 Carny: Americana On The Midway (2007)
Author: Peter Fenton
Publisher: Umbrage Editions (May, 2007)
Cover: photography by Virginia Lee Hunter
ISBN: 1884167667/ 978-1884167669
Format: 90-page hardcover photobook, with Wait's lyrics of "Circus".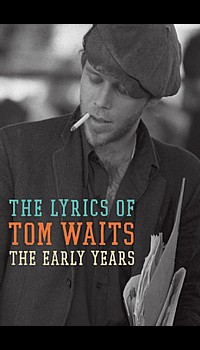 The Early Years, The Lyrics Of Tom Waits 1971-1983 (2007)
Author: Ecco
Publisher: Ecco (an imprint of Harper Collins publishers). November 1, 2007
Cover: photography by Michael Putland
ISBN: 0061458007, 978-0061458002
Format: 208-page hardcover. Lyrics from the albums Closing Time to One From The Heart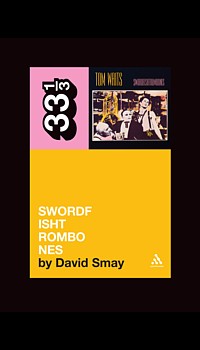 Swordfishtrombones (2008)
Author: David Smay
Publisher: 33 1/3 series nr. 53 by Continuum. January 20, 2008
ISBN: 10: 0826427820/ 13: 9780826427823
Format: 129-page paperback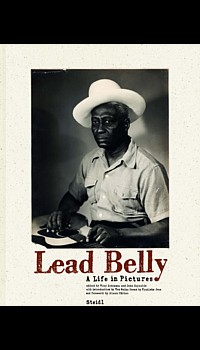 Leadbelly - A Life In Pictures (2008)
Author: Tiny Robinson and John Reynolds
Publisher: Steidl/ Germany (February 2008)
ISBN: 9783865214591/ 3865214592
Format: 224-page photobook with foreword written by Tom Waits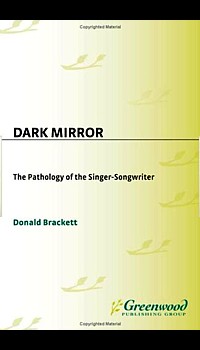 Dark Mirror: The Pathology of the Singer-Songwriter (2008)
Author: Donald Brackett
Publisher: Praeger (September 30, 2008)
ISBN: 0275998983/ 978-0275998981
Format: 248-page hardcover (Chapter 6 - The Rabble Rouser: Tom Waits Pages 73 - 81)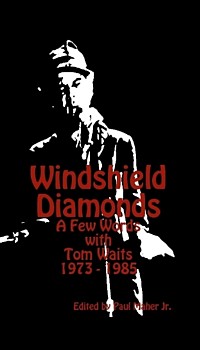 Windshield Diamonds (2008)
Author: Paul Maher Jr.
Publisher:Lulu Inc./ USA (December 1, 2008)
ISBN: self-published
Format: 637-page hardcover/ softcover with 70 Waits interviews 1973-1985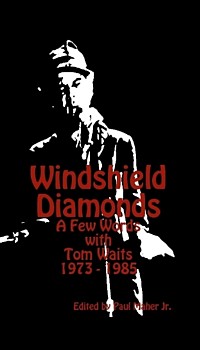 Tom Waits (2009)
Author: photography by Anron Corbijn
Publisher: Schirmer/ Mosel (Germany. December 30, 2009)
ISBN: ??
Format: 160 pages hardcover, 75 colour and duotone plates. "Tom Waits and Anton Corbijn are a perfect musician and photographer match. Their 30-year collaboration now yields this book of portraits interspersed by lyrics from major Waits albums"