Napoleone Pizza House
"I thought high school was a joke, I went to school at Napoleone's."
At the age of 14 young Tom Waits got himself a job at Napoleone Pizza House in National City (San Diego/ CA). The place was run by Joe Sardo and Sal Crivello (who still runs the place).
Sal Crivello (2007): "He started when he was in high school, about sixteen years old. He was shy at first, but I think that was just because he was young. He washed dishes, and then he became a cook. He was an excellent worker. He made good pizzas"(20)
Still attending school, Waits would keep this job for about 5 years (from ca. 1963 to 1968). These years would prove to be a great inspiration for his later works, such as: Can't Wait To Get Of Work, The Ghosts Of Saturday Night or even Shore Leave. It would have been just another pizza parlor, hadn't Waits mentioned it in the subtitle for The Ghosts Of Saturday Night.
The Ghosts Of Saturday Night - After hours at Napoleone's Pizza Parlor
(The Heart Of Saturday Night, 1974)
From that time on Waits started mentioning the place in interviews. He told about it introducing his songs. He even mentioned his former employers in the song I Can't Wait To Get Off Work .
Tom Waits (1974) introducing The Ghosts Of Saturday Night: "It's about National City which is primarily a sailor town, a suburb of San Diego, where the infamous Mile Of Cars is on National Avenue and at the north end of National Ave is the Burge Roberts Mortuary and the Golden Barrel, Escalante's Liquor Store, sandwiched in between a Triumph Motorcycle shop and Burge Robert's is Napoleone's Pizza House, it's been there for a good 25 years and I worked there when I was real young. I've worked since I was 15 there and I guess not till I was away from it for a long time I could really sit down and write something constructive about it. This is called Ghosts Of Saturday Night or Looking Out From Napoleone's." (1)
Tom Waits (1975) introducing The Ghosts Of Saturday Night: "After I quitted (I was working on a Mobil station) and I was fifteen, eh I started working as a dishwasher and a cook at a place called Napoleone's Pizza House. And eh, worked there for years, for Joe Sardo and Sal Crivello, and eh it was a gas. Ehm well, like every night about eh 4 o'clock in the morning, all the white vinyl booted gogo dancers and all the sailors would come over about a quarter o' four. And eh just about that time Joe would go out in front just to check out the traffic on the street. You know, he would like leave his paper hat and he'd fold his apron and he would go out and stand in front of Napoleone's. Across the street from The Golden Barrel and Escalani's Liquor and Mario's Pizza. There's a Shell station right on the corner, and a Westerner and a Club-29, and a Melody Club, Phil's Porno and Iwo Jima Eddie's tattoo-parlor. And there'd be a cab out there combing the snake..." (2)
Tom Waits (1974): "I thought high school was a joke. I went to school at Napoleone's."
<object classid="CLSID:22d6f312-b0f6-11d0-94ab-0080c74c7e95" codebase="http://activex.microsoft.com/activex/controls/mplayer/en/nsmp2inf.cab# Version=5,1,52,701" height="46" id="MediaPlayer1" standby="Loading Microsoft WindowsR Media Player components..." type="application/x-oleobject" width="320"><embed autostart="0" height="46" name="MediaPlayer1" pluginspage="http://www.microsoft.com/Windows/MediaPlayer/" showcontrols="1" src="http://tomwaitslibrary.info/audio/icantwaittogetoffwork.m3u" type="application/x-mplayer2" volume="-300" width="320"></embed></object>
Listen to audio excerpt of I Can't Wait To Get Off Work.
Small Change (Asylum, 1976).
Tom Waits (1983): "I remember I worked in a restaurant for several years and Sal Crivello who I worked with for 6 years - I never saw him in anything but a paper hat and a white linen shirt and dirty apron and white socks and black tractor tread shoes and one night, it was Christmas Eve I think, I stayed late, he left early and he changed, he went into the little closet and he changed, it was like watching Superman. He went into this little closet and he came out with a sweater shirt and a little gold pepper around his neck and slicked his hair down, tight, stay pressed slack job there and loafers, wild socks and apparently an unbelievable itinerary. He was going to a bowling alley with a girl who was about 6 foot 7, weighed about 220, and I always remember that, the thrill of seeing him dressed as somebody else. I thought he wore that little white uniform everywhere he went. Just like I always thought jazz musicians slept in their clothes and stayed in 4 dollar rooms, drank cheap booze, and lived this whole life of self denial, kind of, you know, in the name of the music, and I found out all these guys wear panty hose, sit out by the swimming pool, play golf in the afternoon, it was really hard for me." (3)
Tom Waits (1975): "National City is this naugahyde town in Southern California and it's a sailor town, lots of vinyl white booted go go dancers, I worked until 4 in the morning in a pizza house as a cook, started off as a dishwasher, worked for Sal Crivello and Joe Sardo, worked there for 5 years as a matter of fact. That's where the mile of cars is, that's where I got snookered in a deal for $125, I bought a 1955 Buick Roadmaster down there."(16)
Tom Waits (1999): "A stone's throw away from Iwo Jima Eddie's tattoo-parlor and across the street from Club 29, Sorenson's Triumph motorcycle shop and Phil's Porno. I thought I was gonna be a cook. That's about as far as I could see. But what also happened was that I was mystified by the jukebox, and the physics of how you get into the wire and come out of the jukebox. That's where that came from. I'd listen to Ray Charles singing Crying Time and I Can't Stop Loving You , and I'd think, goddamn, that's something."(4)
Tom Waits
(1999): "
... I got a [tattooed] map of Easter Island on my back. And I have the full menu from Napoleone's Pizza House on my stomach. After a while they dispensed with the menus: they'd send me out, and I'd take off my shirt and stand by the tables."
(5)
Tom Waits (1999): "When I was fourteen I worked in an Italian restaurant in a sailor town. Across the street was a Chinese place, and we'd trade food. I'd take a pizza to Wong's, they'd give me Chinese food to bring back. Sometimes Wong would tell me to sit in the kitchen, where he's making all this food up. It was the strangest galley: the sounds, the steam, he's screaming at his co-workers. I felt like I'd been Shanghaied. I used to love going there."(6)
Tom Waits (1999): "I knelt at the altar of Ray Charles for years. I worked at a restaurant, and that's all there was on the jukebox, practically, that and some Patsy Cline. Crying Time, Can't Stop Loving You, Let's Go Get Stoned, You Are My Sunshine, What'd I Say, Hit The Road, Jack. I worked on Saturday nights and I would take my break and I'd sit by the jukebox and I'd play my Ray Charles."(13)
Tom Waits (1983): "Some of my dreams have come true. Going on the road and playing nightclubs was an enormous dream for me. I can remember working in a restaurant and hearing music come out of the jukebox and wondering how to get from where I was, in my apron and paper hat, through all the convoluted stuff that takes you to where you're coming out of the jukebox.. I'm still not played on jukeboxes though, which is ok. If I heard myself come out of a jukebox somewhere, my face would probably turn red." (15)
Tom Waits (1983) on Soldier's Things: "I worked in National City in a crummy restaurant for a long time, full of soldiers most every night, tattoo parlor next door, country-and-western diner-dance type of place down the street, Chinese restaurant, Chinese laundry, pool hall all real close, walking distance. So I called up some of my memories of that time. Sit out on the sidewalk, wearing the apron, paper hat, watching the traffic go by, you know?" (14)
Q: When you were young, what did you want to be when you grew up? You didn't think, I'm gonna be an eccentric musician.
Tom Waits (2002): "An eccentric musician? [laughs] I thought I'd stay in restaurant work where I belonged. I liked washing dishes because everyone leaves you alone. You can listen to everything going on in the room, and the stuff you hear when you're washing dishes is priceless. I remember sweeping around the jukebox and saying to myself, How do you get in that jukebox? How do you come out of there?" (17)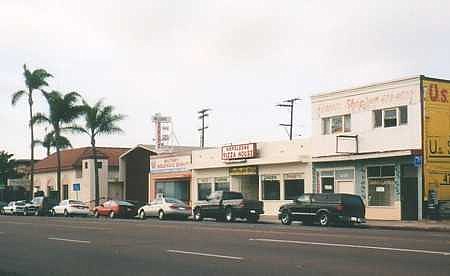 Napoleone Pizza House. Summer, 2001 (Photo credit N.N./ Tom Waits Library)
After a Frank Zappa and the Mothers of Invention show (November 8, 1974) Chester Thompson and Zappa visited Napoleones, where Zappa was so impressed by the jukebox selection that he mentioned it glowingly in a subsequent interview. He told Zappa fanzine City of Tiny Lights: "It's a good thing I didn't know about that pizza, or that jukebox, or I might have never left San Diego." (Source: "Best San Diego Jams" by Jay Allen Sanford. San Diego Reader. October 4, 2007)
Sal Crivello (1999) allows that Tom was a hard worker, but it was apparent even at that stage what his young employee truly wanted from life. Crivello insists that Tom was determined to become a musician. He was fifteen years old. He was doing songwriting. He was playing several clubs then ... coffeehouses and things like that. We'd always talk about it while we were working. I saw him going in that direction. I knew he was talented, but I just never thought he'd be that big.(7)
Sal Crivello (2007): "I asked him what kind of stuff he was doing (at the Heritage). he said he sang and told jokes. I said, 'What kinda jokes?' He said, 'You know, the kinda jokes we tell here in the kitchen,' I said,Tom, you can't say those things in a coffeehouse!'"(20)
Tom Waits (1976): "I knew when I was working there I was going to do something with it, yeah. I didn't know how, but I felt it every night."(18)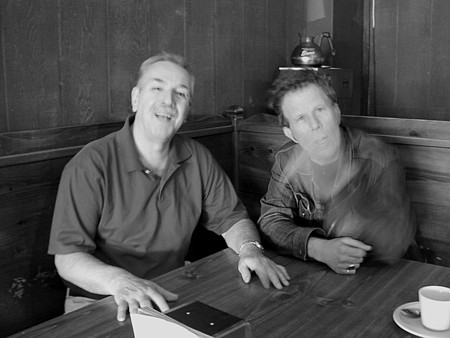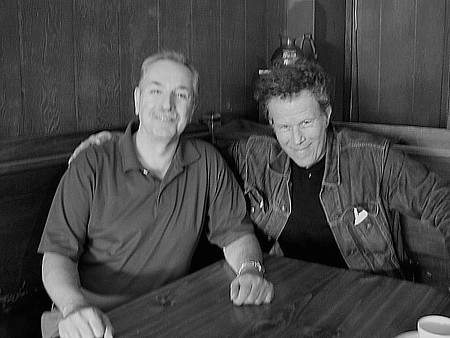 Sal Crivello and Tom Waits at Napoleone's. November 23, 2002
Photography by Joel Mielke. Kind permission: Joel Mielke.
Joel Mielke (2007): "Tom showed up unexpectedly on a slow Saturday. Sal's son was working and had no idea who Tom was. Tom called Sal, "what do you mean, where am I, I'm at work!" and Sal came down a few minutes later. I just happened to have my camera with me. Tom is so animated, most of my pictures are fuzzy (except for Sal, who held his position, beaming the whole time)."
Waits probably romanticized and mystified this particular time of his life, but it is a fact he had lots of time to think, lots of time to read, lots of time to study people during his shifts. He began writing while he was working at Napoleone's. It was throughout this period he got interested in music and in becoming a musician.
Vanity Fair (2004): When and where were you happiest?
Tom Waits: "Nineteen sixty-three, one A.M., washing dishes on a Saturday night in the kitchen of Napoleone Pizza House, 619 National Avenue, National City, California."(19)
Over the years Napoleone's became kind of a place of pilgrimage for Tom Waits fans...
Larry Da Silveira (2001): "Sal is there every time I've been to Napoleone's. The people love him. It's very easy to imagine Waits working there because the place doesn't look like it's changed very much in the 30 years since Waits left for Los Angeles. It's a family place....I usually see whole families dining there, elderly couples, police officers...and sometimes Waits comes on the jukebox through no fault of my own. I've never asked him about Waits myself due to shyness but he's very friendly to the people who do." (8)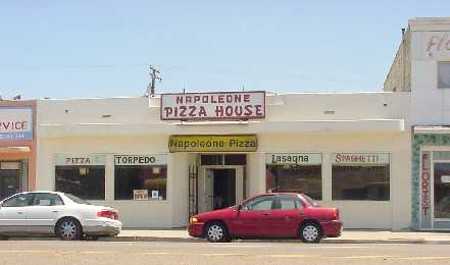 Napoleone Pizza House. Summer, 2001. Photography: Dalsh.
Matt Stowell (1999): "It's located on a run-down commercial strip, a few blocks down from a bunch of used car lots. It's the pizza restaurant equivalent of your typical American dive bar (worn vinyl booths, 5 brands of piss-yellow American beer on tap, etc.). The pizza was pretty decent, although not fabulous, but it was CHEAP. Right on the front of the menu, it says YOUR HOST: SAL. I don't know what happened to Joe...perhaps he's dead. I wasn't about to ask... On my way out, I decided to take a look at the jukebox, and sure enough, there was a Tom Waits CD in there. The Early Years , of course. How fitting. Anyhow, a bunch of kids had come in with a couple of adults (perhaps they were on their way back from a youth soccer game by the looks of them), so I played I'm Your Late Night Evening Prostitute and Looks Like I'm Up Shit's Creek Again for the kiddies. ;-) Nice place. Worth a visit. Wish I could have spent more time there. It was kinda fun relaxing over a glass of cheap wine and imagining a pipmply young Waits sweeping up over by the cigarette machine (which is now long gone, thanks to our overzealous California legislators)."(9)
Napoleone menu. Summer, 2001
(Photo credit N.N./ Tom Waits Library)

Napoleone pizza box :-), 2002
(Photo credit N.N./ Tom Waits Library)
Ulrich (2001): "I just visited Napoleone's Pizza House in National City a few days ago. It's right across the street from a hairdresser, Hollywood & Hair, a lawyer's office and a typewriter repair shop (great neon sign). Just think of a story that connects all of those places. The restaurant is a diner style place, great for the whole family. The cops go there for dinner too. And Rain Dogs too.... Punch selection 43 in the jukebox to hear Early Years (Vol.I). L. played the whole album, sprinkled with a few Dean Martinis as chasers. Much to our surprise, when his selection had finished playing, TW songs kept coming back over and over again. Eventually Sal, the friendly owner, asked us if we were playing all the TW. But by that time, it was noone of us, there must have been another Rain Dog, or two, in the restaurant. That did not bother us much, we had a great time there, and our waitress was truly wonderful, from NY, kind of ala 'Short Cuts', - Lilly Tomlin style. Later, we were looking at old photos in the poolroom in the back. There are all kinds of trophies and old, yellowed, ketchup stained snapshots on the wall, but no pictures of Tom back there, sorry, Dogs. When we were fixing to leave, I asked Sal if he had a lot of folks coming in asking about Tom Waits. Before I had completed my question, he answered: O Yeah, all the time. He then told a nice story about Tom. Apparently, Sal got hurt when he was mugged about eight years ago. So he got this phone call at home: Hey, Crivello (*Sal mimicking Tom's voice bellowing into the receiver on the other end) - Yeah, who is this? - Tom. - Tom who ????? Tom had heard that Sal got hurt and was just calling to ask him how he was doing. Tom actually worked there for over six years. After doing dishes for some years, he got a promotion to the front line as a cook. I think I got a picture of the dishwashing sink in the back. :-)))." (10)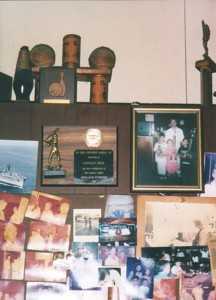 Photos in the poolroom (no Tom Waits). Summer, 2001. Photography: Ulrich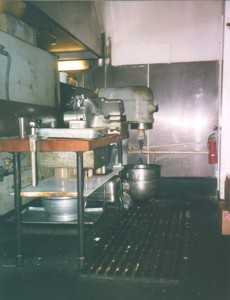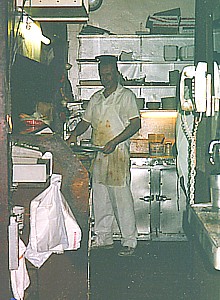 Left: Kitchen of Napoleone's. Right: Sal at work. Summer, 2001. Photography: Ulrich
National Avenue: A mile of bars, cars, fading history
The San Diego Union - Tribune May 7, 2001 Logan Jenkins (excerpts)(11)
For the fading record, National Avenue (now National City Boulevard) was a seductive leg of Highway 101, the straight shot to hell -- and back. In 1870, when pioneer developer Frank Kimball surveyed what was then National Ranch, National Avenue was the main north-south thoroughfare, 100 feet wide and 6 miles long. After National City incorporated in 1887, one of its first ordinances spelled out various behavioral limits, including the speed limit: It was forbidden to fire any cannon in the populated city, drive mules over six miles an hour, inhale opium fumes or throw earth in the bay.
More than any other San Diego County city on the coast highway -- with the possible exception of Oceanside -- National City embraced California's car culture. In 1920, the first Ford dealership set up shop on what, some 40 years later, would become the gleaming Mile of Cars... Then, in the early '50s, National began to change. In 1954, South Bay Plaza, the first shopping center in San Diego County, started sucking the life out of the main drag. Big ships like Woolworth's weighed anchor. Around the same time, Harbor Drive (San Diego's bay-side Highway 101) was extended, bypassing the bulk of National City. Called Montgomery Freeway, this loop honored John Montgomery, the aviation pioneer who some believe manned the first glider in 1883, south of Otay. National Avenue sank into the tattooed arms of sailors looking for a good time. At least 10 bars boomed day and night on National Avenue.
Ray Brock, who has owned a National City auto garage since the '50s, can tick off names of the watering holes as if they were old girlfriends - - Mustang, Tahiti, Melody, Westerner, Brown Bear, Trophy. This was the 80-proof school of woozy knocks observed by young night owl Tom Waits, the beat and lowdown singer/songwriter who went to Hilltop High in the late '60s while working in National Avenue's Napoleone Pizza House as a dishwasher and cook. In The Ghosts of Saturday Night (After Hours at Napoleone's Pizza House), Waits' pitch is dead-solid -- if not dead-drunk -- perfect: And the early dawn cracks out a carpet of diamond Across a cash crop car lot filled with twilight Coupe Devilles, Leaving the town in the keeping Of the one who is sweeping Up the ghosts of Saturday night .
By the time Waits hit the big time in the late '70s, Mayor Morgan and others were cleaning up the so-called Mile of Bars and promoting the Mile of Cars, a sleek cash cow on the southern end of National Avenue. In 1978, the city changed the street name to National City Boulevard to avoid confusion with the National Avenue in south San Diego.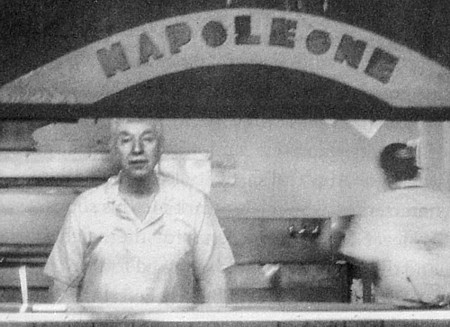 Sal Crivello at Napoleone's. March 2007. Photography by Art Sperl. As printed in "Lowside Of The Road: A Life Of Tom Waits" by Barney Hoskyns (Faber/ Broadway, 2009)
Further reading:
City Of National City (official)
Mile Of Cars
Notes:
(1) Source: KPFK radio interview , 1974
(2) Source: Coffee Break radio show , WMMS-FM. Cleveland. December 3, 1975. Submitted by Matt Stowell as sent to Raindogs Listserv discussionlist. May 8, 1999
(3) Source: Swordfishtrombones Interview . 1983/ 1984
(4) Source: Tom Waits, Hobo Sapiens. Telegraph Magazine, by Mick Brown. China Lights/ Santa Rosa. April 11, 1999
(5) Source: Mojo Interview With Tom Waits. Mojo magazine (USA), by Barney Hoskyns. Santa Rosa. April, 1999
(6) Source: The Resurrection Of Tom Waits . Rolling Stone magazine (USA), by David Fricke. Washoe House/ San Francisco. June 24, 1999
(7) Source: Personal interview by Jay Jacobs. Telephone conversation. May 20, 1999. Published in "Wild Years, the Music and Myth of Tom Waits", 2000
(8) Submitted by Larry Da Silveira, as sent to Raindogs Listserv discussionlist, August 7, 2001
(9) Submitted by Matt Stowell, as sent to Raindogs Listserv discussionlist, May 8, 1999
(10) Submitted by Ulrich from Germany, as sent to Raindogs Listserv discussionlist. August 8, 2001
(11) Submitted by Larry Da Silveira, as sent to Raindogs Listserv discussionlist, May 22, 2001
(12) Source: Tom Waits, All-Night Rambler . Rolling Stone, Rich Wiseman. January 30, 1975
(13) Source: Tom Waits, Artist Choice , Hear Music Artist's Choice. October, 1999
(14) Source: Tom Waits For No Man. Melody Maker. Brian Case. October 29, 1983
(15) Source: One From The Heart & One For The Road . New Musical Express magazine. Kristine McKenna. October 1, 1983
(16) Source: WAMU Radio Interview . Washington, DC. April 18, 1975
(17) Source: This Business Called Show Austin Chronicle (USA) May 10, 2002 by Margaret Moser
(18) Source: "Waits: Personality Without Pretention" Los Angeles Times (USA) March 14, 1976. By Richard Cromelin. Pop Music pg. V64
(19) Source: "Tom Waits: Proust Questionnaire", Vanity Fair magazine (UK). November, 2004
(20) Source: Sal Crivello interview March 22, 2007 as printed in "Lowside Of The Road: A Life Of Tom Waits" by Barney Hoskyns. Faber/ Broadway, 2009