The Troubadour
"You arrive at the Troubadour at 10 in the morning and wait all day. They let the first several people in line perform that night. When you finally get up there, you are allowed four songs - you can blow it all in 15 minutes. I was scared shitless."
There are different stories about Waits getting his break into show business. David McGee ('76), Irwin Stambler ('78) and Iva Sipal ('94) claim this to be: late 1969. Barney Hoskyns ('85) has this as: June 1971. John Gazlay(9), who became acquainted with Tom Waits when he played at The Heritage in San Diego, claims this was absolutely during the summer of 1971. One thing is sure, it all took place at Doug Weston's Troubadour.
After high school, Waits worked at a variety of jobs, including doorman at the San Diego Heritage and dishwasher/ cook at Napoleone Pizza House. Still living in San Diego he'd take the bus each week to Los Angeles and stand in line for hours to play a few numbers at hoot night at the L.A. Troubadour, which at that time was the most important club showcase for new talent in the US. The Troubadour (located at: 9081 Santa Monica Blvd., West Hollywood) was born as a coffeehouse in the fifties and boomed with folk music in the early sixties. Through the late sixties and into the seventies, the "Troub" was where everybody who was anybody played.
"The club's famous Monday night 'hootenanny' was where every two-bit folkie in town had his or her turn in the spotlight. Biggish names (Judy Collins, Phil Ochs, Judy Henske) often played there, but the Troub's real contribution was to nurture the artists who were to become the leading lights of LA's folk-rock boom: singers such as David Crosby, Gene Clark and Jerry Yester, along with a variety of jug and bluegrass bands. 'You'd see ten to fifteen acts on Monday nights,' recalls Henry 'Tad' Diltz of the Modem Folk Quartet. 'The place would be absolutely packed with agents and managers and record company people..." "From the tiny, localized scene that was the Troubadour bar, a whole Asylum subculture seemed to grow. In addition to Jackson Browne, there was Linda Ronstadt, J. D. Souther, Ned Doheny and four renegades who banded together in August 1971 as the Eagles. Country rock lived on at the Troub, and these artists were about to turn it into a multi-million-dollar industry..." Jackson Browne: "You went there on Mondays just to try and get a job. You signed on to this list at 4 p.m. and if you were lucky you might get to sing three or four songs that night. Monday nights also happened to be industry nights at the bar, so you had a lot of actors and agents and record executives and beautiful women around. It was a teeming scene, and people like Crosby were always flying in and out with girls." (8)
Tom Waits (1974): "It was frightening to hoot, to be rushed through like cattle. And at the Troubadour it's like the last resort. You see old vaudeville cats, bands that have hocked everything to come out here from the East Coast just to play the Troub one night. You also meet a lot of carnival barkers in polyester, smoking Roi-Tans and giving you some long Texas routine. They say, 'Hello sucker.' And I was a sucker. But you're desperate, you're broke."
Tom Waits (1976): "I was as ambitious as hell. I wasn't any good, but I was ambitious, and I thought I was better than anybody, and I sucked raw eggs. But you have to think that way. To let an audience intimidate you is musical suicide."(15)
Tom Waits (2002): "I'd come up from San Diego and I'd take the Greyhound, get off downtown, then take the local all the way out to West Hollywood. I'd get there at nine in the morning and stand in line to go up on stage on Monday night at the Troubadour and play three songs. That's all you get."(10)
Tom Waits (1999): "I used to take the bus to the Troubadour and stand out front at 9 o'clock in the morning on a Monday and wait all day to get up and do 15 minutes onstage. 'Cause you know, you never had confidence, you have absolutely no self-esteem, but you have this mad wish to do something public at the same time. You're sitting all day next to a guy with a silver trumpet who's on acid, you're sharing cigarettes and drinking Tabs. And then like a whole Mexican family with nine kids comes in in matching vests and pants and studs and hats, from ages 19 down to 4, and they get up and do "Guadalajara," "Eres Tu?" -- remember that? Break your heart, just break your heart... I saw Miles Davis there. Professor Irwin Corey. They swing a spotlight around right by the cigarette machine to pick you up: And nowwww, ladies and gentlemen, the Troubadour is proud to present... And they'd say your name, and they'd walk you up to the stage in the spotlight. I used to watch other acts do that, and I'd be in the audience with my coffee, and I said, "That's it. That's it for me."(2)
Tom Waits (1999): "That was the big place to play. They'd put a big picture of you in the window. In those days, if you sold out at the Troubadour, that was it. People weren't playing sports facilities. At the Troubadour, they announce your name and picked you up with a spotlight at the cigarette machine, and they'd walk you to the stage with the light. It was the coolest. The owner, Doug Weston, would go out on-stage naked and recite The Love Song of J. Alfred Prufrock. He'd have guys on acid who wanted to tell stories. It was like Ed Sullivan, without Ed. Anyone could get up. It was very thrilling, though, because you would find people who'd hitchhiked to this sport for their 20 minutes."(3)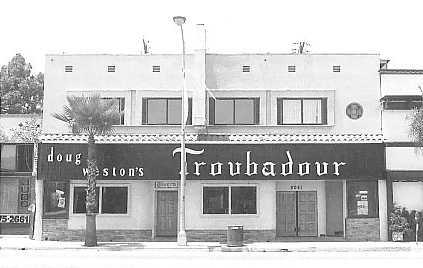 Early picture of The Troubadour at: 9081 Santa Monica Blvd., West Hollywood.
Picture as printed in Barney Hoskyns' "Waiting For The Sun". Penguin Books, 1996
On one of those hootnights, during the summer of 1971, Waits was discovered by rock manager Herb Cohen (who managed Frank Zappa and The Mothers, Captain Beefheart and Linda Ronstadt). Cohen suggested they work together and signed him to his management.
Herb Cohen (1979): "I was on my way to the toilet when I heard Tom sing that night. When I came out of the toilet, I asked him what he was doing and he said, 'Nothing.' So I signed him up." (4)
Tom Waits (1977): "You bust your chops to get hold of something, get chumped again and again to where you become bitter and coldblooded, and suddenly someone's saying, 'Okay, here.' And you can't offer any kind of rebuttal. You just have to take it, along with the responsibility. That was frightening.(5)
Cohen managed and supported Waits for over a year, and gave him the opportunity to write and develop. In the mean time Waits kept doing gigs in the L.A. area. The Troubadour would again proof to the right place to be for Waits, as one night David Geffen (Asylum) happened by...
Jay S. Jacobs (2000): "Geffen wasn't planning on staying long when he dropped by the Troubadour that night in 1972, but he quickly changed his mind. Commanding the stage was a guy who looked more like a vagabond than a rock musician. But Geffen had barely taken his seat before Waits's seductive aura had encompassed him. "He was singing a song called 'Grapefruit Moon' when I heard him," Geffen recalled recently. "I thought it was a terrific song, so I listened to the set." He watched, he listened, and the wheels started turning. Here was an artist who could make some intriguing records. "After (the show], I said that I was interested in him. He said, 'Well, I'll have my manager, Herb Cohen, call you."' Geffen left the Troubadour thinking that since Cohen had his own record company, this would be "the end of it." But, to his surprise, Cohen did finally call: "He was interested in making a deal with me for Tom ... Herb had said that he didn't really think that it was right for him to make the record. My making the record would help him with the publishing. So I made a deal for [Tom]. And he made a great first record." (6)
At that time Waits was only doing clubs and opening shows for others. He wasn't touring and he hadn't even done a show of his own at the Troubadour. He got his first formal show at the Troubadour in 1975. Apparently stuck between Little Feat's equipment.
Tom Waits (1975): "They had a lot of furniture up there. I almost had an artificial vasectomy on those little cymbals hanging out there. A lot of electronic accoutrement I had to dodge and duck under but I pulled it off okay I think. Just used a spotlight to not light up all that chrome up there. It was okay, on the bill with Little Feat. It was okay. Opening night I was pretty inebriated, there was a lot of press there and everything and it just has the tendency to make you a little neurotic I guess. It went okay, just 3 nights too. Then I went to Minneapolis and then I went to Pittsburgh and then I came home. It was okay. It was a real nervous gig. On top of everything else I had never played there before. I had hooted there several times so playing there, having a formal engagement there was a little difficult somehow - but it went off okay." (7)
Ove the years Waits did several shows at the Troubadour. Unfortunately there's only one recording left (from 1975). It was released as the bootleg album "Tom Waits - Bounced Checks" (EX 4502.1 LP, Excitable Recordworks/ Route One/ Legerdemmain, USA. Live from the Troubadour, Los Angeles, 1975).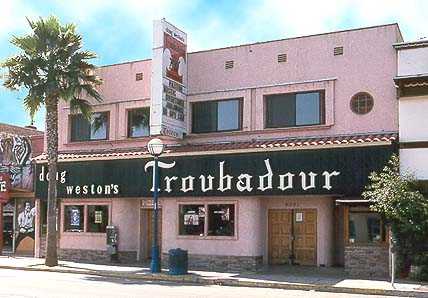 The Troubadour. Photography by Gary Wayne.
From 1975 on The Troubadour became home to: Waits, Rickie and Chuck and their friends. Some of them name-checked in the sub-title of the 1976 song Jitterbug Boy: "Sharing a curbstone with Chuck E. Weiss, Robert Marchese, Paul Body and The Mug and Artie". Robert Marchese was the manager of the Troubadour. Paul Body was the doorman. Louie "the mug" Lista was the barman, and Artie Leichter was lighting man at the Troubadour.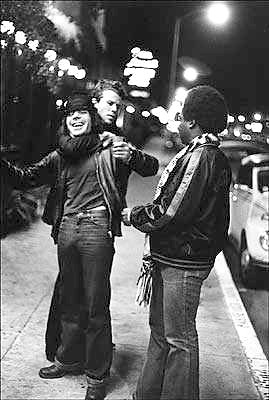 Tom strangles Chuck outside the Troubadour. Paul Body watches
Date: 1977(11)
Paul Body (2007): "Here's this guy in the hat and the tie and the pointed shoes, and everyone else is wearing jeans or bellbottoms. I called Waits 'The Pointed Man' because of the shoes. He was really a fish out of water, because not only was the country rock thing happening but you had the big rock thing too. Plus he drove an old Cadillac. He was really like a man out of time."(16)
Loui Lista (2007): "I thought,'Is this an act, this greasy food at the diner thing?' I was crazy enough and doped up enough at the time to be suspicious, probably because he did it pretty well... I think Tom saw the humor element work, saw that he was able to get people to laugh and to break down their defenses with that kind of a character. It was, 'I'm an outsider, but I'll revel in being an outsider."'(17)
Robert Marchese (2007): "I just thought Waits was fulla shit, which I always would tell him. You know, the whole mystique of this real funky dude and all that Charles Bukowski crap. Because nobody was really like that. He was basically a middle class, San Diego mom-and-pop-schoolteacher-kid. And it was his impression of how funky poor folk really are."(18)
Barney Hoskyns (2009): "Harvey Kubernik recalls Marchese referring to Waits as "Ratzo," apparently believing the singer had based his shambling gait on Dustin Hoffman's char¬acter in Midnight Cowboy. "I'd see Waits with Marchese and Louie and Body just hanging out at the Troubadour," Kubernik says. "Marchese really liked Tom but he would say to him, 'Hey, clear the aisle, Ratzo. And Waits would say,'Man, don't call me that."' Despite the derision, Waits warmed to Marchese; perhaps it was refreshing to encounter a bona fide street guy who didn't buy his act at face value. "For some odd reason Tom was very concerned about what I thought about his stuff," Marchese chuckles. "He gave me an acetate of one of his albums and said, 'I think I'm really takin' a chance with this one.' I said, 'I'll tell ya something, Tom. 1956 at the height of McCarthyism, Little Richard comes out in a silver suit singing "Tutti Frutti"... now that's somebody takin' a chance!' I would always say things like that, not out of belligerence but to keep everybody from getting bigheaded or losing perspective."(18)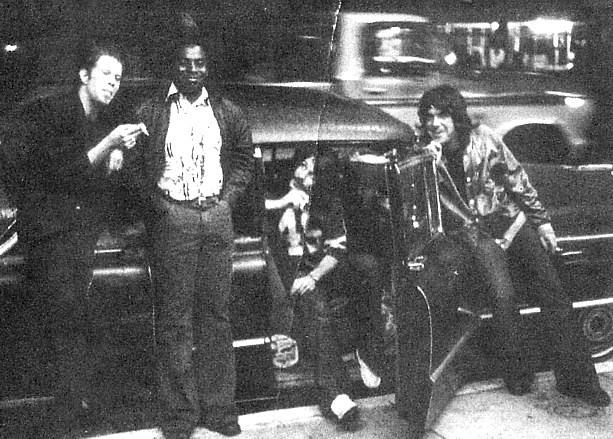 With: Paul Body, Robert Marchese (in Waits's Cadillac) and Chuck E. Weiss in front of the Troubadour.
Date: ca. late 1976. Credits: courtesy of Robert Marchese(19)
Rickie Lee Jones (late 1979): "I didn't have any real friends back then [1977] and I didn't have any place to live. I didn't have any money. So I'd go sit over at the Tropicana motel and rest. A guy I know, Ivan Ulz, was performing at the Troubadour one evening and he asked me to come over and sing a couple of songs. This fella Chuck E. was working back in the kitchen of the club, and that's how I met him. I sang 'Easy Money' and a song Ivan wrote, called 'You almost look Chinese.' A little later on, Tom saw me there, and he and Chuck E. and I started hanging out together. That was a high point in my life. Before that, I guess I had learned not to depend on anybody else, 'cause once people start affecting what happens to you, it's trouble. But I think Chuck E. and Tom have been my family for a while now. It seems sometimes like we're real romantic dreamers who got stuck in the wrong time zone. So we cling, we love each other very much."(12)
Early 1978 Waits had some days off from his Foreign Affairs tour. He stayed in Los Angeles for a couple of days and went to see the February 5th show of punk band The Bags in the Troubadour. The turn of events that night became known as "The Trashing of The Troubadour". There are no comments known by Waits on this hilarious incident.
Trashin' and Bashin' (1978)(13)
Brendan Mullen: Things got off to a bad start when the Bags played at the Troubadour. It was the first punk show ever at this once jolly country rock cowboy club in West Hollywood, which was the birth spot for post-Burritos/ CSN&Y country vocal groups and the new Hoot Night Asylum artists hawked by a cute, fresh-faced future renowned multinational corporate power broker named David Geffen. This seedy roach-infested joint had recently been knocked out of the water after a long run as the premier industry haunt when Lou Adler opened the Roxy. Now the club was desperate for business, so desperate they were reduced to booking punk! The Troubadour was owned and hands-on operated by Doug Weston, this fabulously outlandish cocaine-addled old hippie queen, a lumbering giant who was six foot six and stormed around in caftans, beads, and bells over opened-toed leather sandals in 1978. Knowing or caring naught for this club's revered folk and country rock history, punks arriving for the first time balked at the two-drink minimum and responded by upending all the tables and chairs to create a pogo dance floor in front of the stage! When [Tom] Waits allegedly tried to pick up on Alice [Bag] by asking what a beauty like her was doing with an asshole like Nickey Beat when she could enjoy the thrill of being with him instead, things only got worse.
Chuck E. Weiss: I was in Canter's Deli the night before the trashing of the Troubadour episode, sitting with Waits when this chick Alice from the Bags came up to our table and was flirting with us and then she invited us to come and see her band the next night. I didn't know what she was doing exactly, but I knew something was wrong. So we get there the next night anyway and she calls out Waits from the stage and said, "Tom Waits is down here trying to pick me up." She tried to embarrass Waits in front of the crowd. She stopped her show specially to say this. Afterward that Nickey Beat guy called Waits out to further embarrass him -- he called him an asshole from the stage, as I recall -- but you know, the guys at the Troubadour were all pretty tight, so we just said, "Okay, if that's what you want." So we shut the door and locked it after all the punks had gone outside so's Waits and Nickey Beat could have it out one on one. They had their little scuffle... it was pretty soft-handed... it was like watching two girls fight, pulling hair and open-hand slapping. I'd say it was pretty much a draw. Outside the club the punks kept trying to get back in, and John Sanborne, one of the doormen, was poking them in the face to keep them away from pushing the door open. It was like the movie Night of the Living Dead except with angry punks trying to kick the door down. Nickey disrespected Waits, but Alice did it first. She invited us to come down; we would have never come to see her otherwise. The place got trashed, all right, but the place used to get trashed nearly every other night anyway.
Brendan Mullen: The next day the entire Troubadour staff signed a petition threatening to quit if punk wasn't banned. The petition referred to the punks as "vermin" and the bands as "anti-artists." Weston deferred to his employees' demands, and so a show featuring the Zeros, X, and the Flesh Eaters set for the following week was canned.
Chuck E. Weiss: Man, I seen things happen when country and western bands would play there and brawls would break out -- a huge slugfest broke out when Willie Nelson played there, with glasses flyin', table and chairs upended, the whole nine yards. I saw Doug Weston do more damage to that club than any punk rocker did that night. Once Doug came out onstage brandishing a shotgun directly at the audience; another time he was kicking things over. I saw Phil Ochs kick shit all over that joint, and I saw a duke-out between Bennett Glotzer, Albert Grossman's partner, and Dr. John at the front bar. Things like that happened all the time, so the punks kicking over tables and chairs wasn't more radical than Doug Weston getting onstage and pointing a gun at the audience. Later that same night there was the legendary food fight at Canter's between the punks and the Troubadour guys... I got into a verbal exchange with Brendan Mullen at the cash register with matzoh balls flying in the background.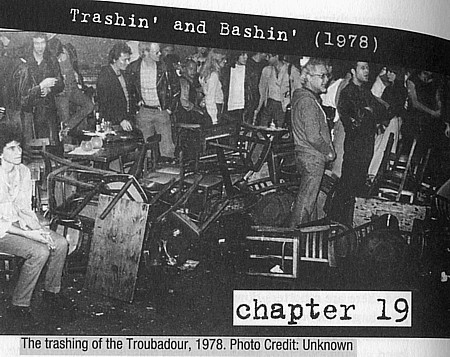 Tom Waits, right at the front. Troubadour. February 5, 1978(13)
<object height="344" width="425"><embed allowfullscreen="true" allowscxxxriptaccess="always" height="344" src="http://www.youtube.com/v/IrqC_m2zUSE?hl=en&fs=1" type="application/x-shockwave-flash" width="425"></embed></object>
The Bags performing "Violent Girl" at the Troubadour
with drummer Nicky Beat yelling at Waits. February 5, 1978
The Bags were: Alice Armedariz, Patricia Rainone, Craig Lee and Nicky Beat
Captured from VHS tape and uploaded to YouTube by "crankenstyne"
Alice Bag (2005): "First, let me say that I enjoyed reading the chapter about this incident in Brendan Mullen's book because the story changed significantly depending on who was telling it. It reminded me of the movie "Rashomon," where you get the same story, told from different perspectives. Of course, my version is the true version ; ) It all started at Canter's (a Fairfax district deli which is open all night and was a hangout for musicians and club-goers). I was with a group of friends and we were leaving Canter's. I remember standing at the pastry section, just ogling all the pastries we couldn't afford when my friend Lauren said "Let me say something to my friend," who happened to be Tom Waits. I had no idea who Tom Waits was, at that time. So Lauren came back over and then introduced the group of us to Tom Waits and his entourage. I probably said, "We're playing at the Troubadour, please come see our show" because it was right around that time. I might have smiled or winked or something that was interpreted as flirting, but keep in mind that my boyfriend, Nickey Beat, was with us at the time. Later, Lauren came back to us and said "Tom Waits really liked you. He thinks you were great and he wanted to know who the dipshit was that was with you." When Nickey heard that, he was pissed. Anyway, I thought it was all forgotten by the night of the Troubadour show, but then someone came backstage to tell us that Tom Waits was in the audience, at a table in front of the stage. Nickey was playing drums for The Bags that night and he was livid. Just before the Bags went onstage, Nickey got on the mic and called Tom Waits an asshole from the stage. So then Tom Waits was pissed off and he and his entourage sat there at their little table through our entire set while bedlam erupted all around them. He was very cool, just sitting there while the place was being ripped apart. I remember looking over at one point and seeing a chair fly right over his head but he didn't flinch. The Bags played our usual chaotic set and the audience was in a frenzy. Afterwards, we were backstage thinking "What an amazing show," and when we went to load out our equipment, the bouncers locked the doors and told us we couldn't leave until the whole matter between Nickey and Tom had been settled. I started to freak out because it was just us and these really burly bouncers, all our punk friends had been locked outside of the club. Somehow, word spread that we were in trouble and the punks were trying to kick in the club doors to get inside, but the bouncers were poking people in the face to keep them out. I remember trying desperately to open the doors and thinking "they're going to wreck our equipment and beat the shit out of us," but none of that happened. What did happen was that the bouncers and members of Tom Waits' entourage made a circle around Nickey and Tom so that no one could interfere and then they let the two guys duke it out. I couldn't tell you if there was a winner or a loser. I'd say it was pretty even and they got their aggression out. When the scuffle was over, they let us leave after promising never to play at the Troubadour again. It was the first and last punk show at the Troubadour for quite some time. Ironically, it ended up at Canter's Deli again after the show. I heard about a group of punks who went there and started a 'legendary' food fight with the members of Tom Waits' entourage."(14)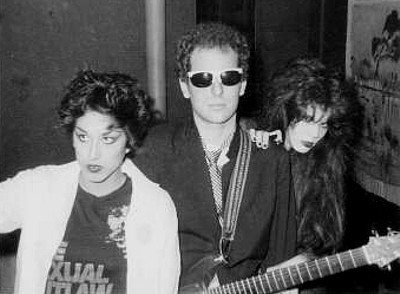 The Bags (Alice Bag, Craig Lee and Patricia Rainone), backstage at the Troubadour. February 5, 1978.(14)
The Troubadour is where young Waits made his break through into show-business. It's where he met Rickie Lee Jones and his future manager Herb Cohen. And it's where he was discovered by David Geffen, resulting in a record deal and giving him the opportunity to make his first record "Closing Time". Until January 1980 (move to New York) the Troubadour had been home to Waits, Rickie and Chuck. So the Troubadour had been good to Waits. It's where he got the opportunity to develop a stage persona. It's where he met his future manager and it's where he got himself a record deal.
Later the Troubadour went on as the L.A. folk music epicenter. But new clubs challenged its dominance until it made the switch to heavy metal in the late 1970s. It continues today as a Hard Rock club. Doug Weston, owner and founder of the Troubadour, died February 14, 1999.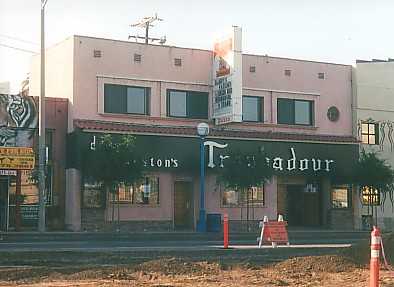 The Troubadour. Summer, 2001
(Photo credit N.N./ Tom Waits Library)
Further reading
Notes:
(1) Source: "Not So Much A Poet, More A Purveyor Of Improvisational Travelogue" New Musical Express, by Todd Everett. November 29, 1975
(2) Source: "Gone North, Tom Waits, upcountry". L.A. Weekly: Robert Lloyd. April 23-29 1999.
(3) Source: "Mojo Interview With Tom Waits". Mojo magazine, by Barney Hoskyns. Santa Rosa. April, 1999
(4) Source: "Tom Waits For No One" Circus Weekly, by Stan Soocher. January 23, 1979
(5) Source: "Smelling Like A Brewery, Lookin' Like A Tramp". Rolling Stone, by David McGee. January, 1977
(6) Source: "Wild Years - The Music And Myth Of Tom Waits". Jay S. Jacobs, ECW Press, 2000
(7) Source: Folkscene 1975, with Howard and Roz Larman (KPFK-FM 90.7) Los Angeles/ USA. January 12 (February 13?), 1975
(8) Source: "Waiting For The Sun". Barney Hoskyns, 1996. Penguin Books. ISBN 0-670-85021-7.
(9) Source: Email conversations with John Gazlay/ Tom Waits Library: June/ July, 2002
(10) Source:"Tom Waits" SOMA magazine (USA) July, 2002 by Mikel Jollett
(11) Source: "Another Fein Mess/ Other Fein Messes" by Art Fein. March, 2003. Copyright Art Fein
(12) Source: "Rock Lives, Profiles and Interviews". Interview w. Rickie Lee Jones from late 1979. Timothy White. Omnibus, 1992
(13) Source: "Trashin' and Bashin' (1978)": We got the neutron bomb, The Untold Story of L.A. Punk. Marc Spitz and Brendan Mullen. Three Rivers Press - New York 2001. ISBN 0-609-80774-9.
(14) Source: "Trashing of the Troubadour", The Official Website Of Alice Bag, January 29, 2005. Kind permission Alice Bag, October 2006.
(15) Source: "Waits: Personality Without Pretention" Los Angeles Times (USA) March 14, 1976. By Richard Cromelin. Pop Music pg. V64)
(16) Source: Paul Body interview March 9, 2007 as quoted in "Lowside Of The Road: A Life Of Tom Waits" by Barney Hoskyns. Faber/ Broadway, 2009
(17) Source: Louie Lista interview March 12, 2007 as quoted in "Lowside Of The Road: A Life Of Tom Waits" by Barney Hoskyns. Faber/ Broadway, 2009
(18) Source: Robert Marchese interview May 18, 2007 as quoted in "Lowside Of The Road: A Life Of Tom Waits" by Barney Hoskyns. Faber/ Broadway, 2009
(19) Source: as printed in "Lowside Of The Road: A Life Of Tom Waits" by Barney Hoskyns. Faber/ Broadway, 2009