Red's Recovery Room
"Kathleen was sittin' down in Little Red's Recovery Room
in her criminal underwear bra.
I was naked to the waist with my fierce black hound..."
Q (1999): The new song "Filipino Box Spring Hog" is the first time you've used your wife's name Kathleen in one of your songs, isn't it?
Tom Waits: "Yeah. She said, "Gee, thanks a lot! You finally stick me in a song, and I'm sitting in a bar in my bra. And you're there with the dog tied to the stool." It's a nice family portrait. I had to do some explaining, but she got a kick out of it."(2)
<object classid="CLSID:22d6f312-b0f6-11d0-94ab-0080c74c7e95" codebase="http://activex.microsoft.com/activex/controls/mplayer/en/nsmp2inf.cab# Version=5,1,52,701" height="46" id="MediaPlayer1" standby="Loading Microsoft WindowsR Media Player components..." type="application/x-oleobject" width="320"><embed autostart="0" height="46" name="MediaPlayer1" pluginspage="http://www.microsoft.com/Windows/MediaPlayer/" showcontrols="1" src="http://tomwaitslibrary.info/audio/filipinoboxspringhog.m3u" type="application/x-mplayer2" volume="-300" width="320"></embed></object>
Listen to audio excerpt of Filipino Box Spring Hog
Mule Variations, 1999.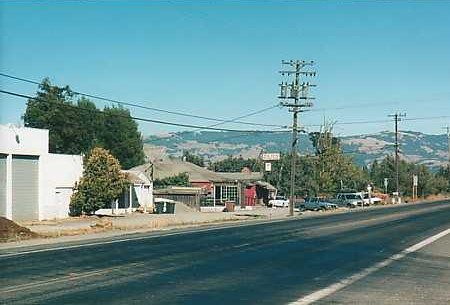 The road to Red's Recovery Room. Summer, 2001.
(Photo credit N.N./ Tom Waits Library)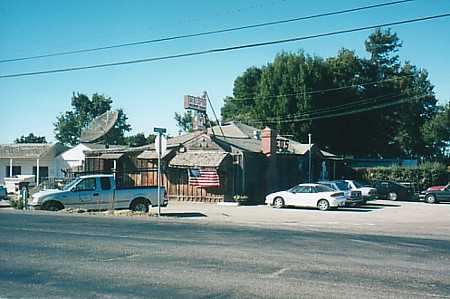 Red's parking lot
(Photo credit N.N./ Tom Waits Library)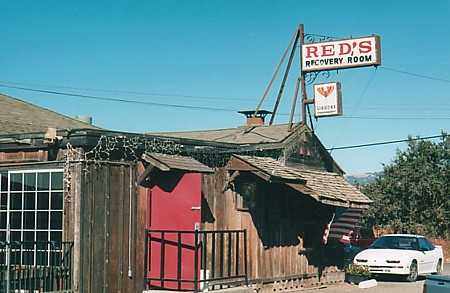 Entrance to Red's Recovery Room
(Photo credit N.N./ Tom Waits Library)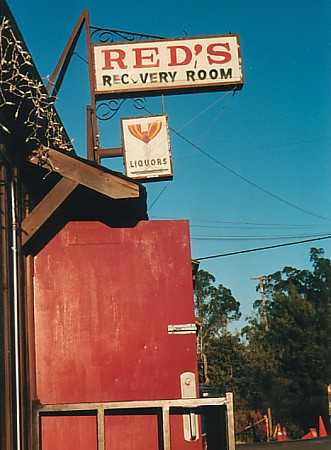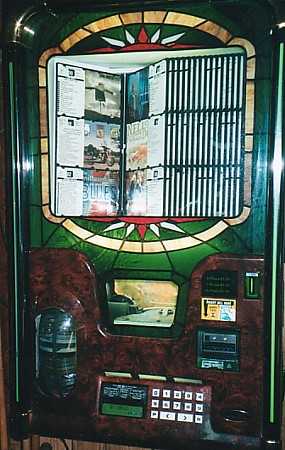 Red's CD jukebox. With Mule Variations at selection #00
(Photo credit N.N./ Tom Waits Library)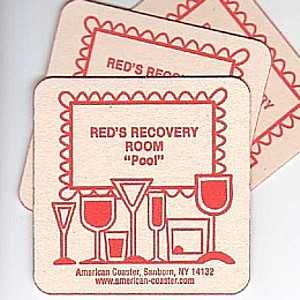 Red's beverage coasters
(Photo credit N.N./ Tom Waits Library)
Middle-Class Upbringing
The ceiling is so low you're certain that the living room is just upstairs and you better not turn the stereo (oops, make that the jukebox) up too loud because Mom and Pop might come down to see what the hell you're doing. With team pennants and mildly shocking girlie photos up on the walls, plus well-used pool tables that look as if Pop picked them up just for the kids to mess around with, Red's Recovery Room looks just like the rec rooms of yore, except that Mom and Pop haven't aged that well. With an In-crowd all its own, Red's gingerly welcomes outsiders. The place pours such generous vodka gimlets that, after just a few sips, you're ready to roll up the rugs and do the Twist. And wouldn't you donate your liver to some deserving soul just to have thought up the name of this place yourself? Located on Highway 116 going west to Sebastopol from Cotati, Red's doesn't mess around with the phone book. In a Zen way, Red's will be there for those who seek. --G.G.(3)
Best Dive Bar: Red's Recovery Room 8175 Gravenstein Hwy., Cotati
Best of local culture: Readers' Poll Results, The Sonoma County Independent, March 23-29, 2000.(3)
Best Example of the 'New York Times'' Critical Taste
Immortalized in a Cropduster song, mentioned in Tom Waits' "Filipino Box Spring Hog" and hailed by a little newspaper called the New York Times as "the second best bar in the world," Red's Recovery Room is a divey little shack. But those who frequent it know that the Times is right, and they know Dee the bartender. She's worked at Red's for over 25 years and tells true stories that the best fiction writers would envy. Swearing like a sailor, she drinks right along with you, screwing up your drink (in your favor) by making it too strong, and she plays ferocious pool. On a recent night, Pink Floyd's Wish You Were Here provided the soundtrack as Dee poured free shots of hot sauce. An axe rested lodged in a pile of firewood, which struck me as a dangerous thing to have in a place where people drink. But that's Red's. Leave your pretensions at the door, and let Dee take it from there. Red's Recovery Room, 8175 Gravenstein Hwy., Cotati. Opens at 10am daily and closes at . . . well, you know when closing time is. --M.P.(4)
Goodbye To Red's
By Michael Shapiro, MetroActive. July 8, 2009
Kathleen was sittin' down in Little Red's Recovery Room in her criminal underwear bra / I was naked to the waist with my fierce black hound/ And I'm cookin' up a Filipino Box Spring Hog - Tom Waits, "Filipino Box Spring Hog"
Immortalized by Waits in 1999, it's a place to celebrate and mourn, a place where you can go by yourself and find old friends or meet new ones, and yes, a place where regulars really do know your name. It's Red's Recovery Room in Cotati, and sadly, after losing its lease, the roadhouse bar is closing later this month, probably on July 26.
"We're not happy; Red's should stay here forever," says co-owner Maria Romani, wearing a roller derby T-shirt while sipping a drink at the bar. She hopes to reopen Red's at another Cotati location. The ramshackle wooden bar, on Highway 116 about a half a mile west of Highway 101, opened in 1976. Owners Bob (known as Red for his hair color) Lehan and Maureen Lehan took turns tending the bar, which became a place for celebrations ranging from turning 21 to divorcing. "We welcomed everyone who walked through that door. They became our friends and regulars," Maureen says, nostalgically surveying the bar last week. "A gathering place is being lost."
The Lehans sold Red's in 2003, and Red died in 2004. But Red's Recovery Room soldiered on, giving people a place to play pool and buy stiff drinks at fair prices. "It's a dying, dying dive," says Michael Mudd, sipping a beer on Red's outdoor deck. "This is a historic moment." The burly Mudd works as an electrician and says that one reason he loves Red's is that anyone can go there straight from work. "Even if you're sweaty or grimy, no one cares."
Mudd recalled bringing his elderly mother to Red's for a drink on a Sunday some 15 years ago. "I know what your Mom needs," Red said to Mudd before making his mother a perfect martini. "It wasn't a sin to have a cocktail back then," Mudd adds. Red was "a big, six-foot-tall redhead, a beautiful person," Mudd remembers. "He could handle a bar and stop a fight - he was very polite, but big enough to escort you out the door."
Like all great old bars, Red's is filled with stories (liquor was distilled in the basement during prohibition, says one legend). Romani even swears that a ghost appears after hours. "Everyone who's ever worked here has seen it," she asserts. Is the ghost Red? Romani says no, adding: "It's a good ghost."
Red's hosts a closing bash on Saturday, July 11, from 2pm to 2am. 8175 Gravenstein Hwy., Cotati. 707.795.4100.
We'll See If Red's Recovers From This
By Chris Smith, The Press Democrat. July 14, 2009
A farewell party on Saturday packed Red's Recovery Room, the well-worn Cotati roadhouse that's as friendly and unpretentious as a neighbor in holey overalls. The timing of the good-bye bash was coincidental to the fact that the good guy who named the bar and ran it longer than anybody else, Robert "Red" Lehan, died at just this time of year in 2004.
Current proprietors Maria Romani and Linda Skomro have learned they must shut down Red's. The investors who own the three acres there at Highway 116 and Adler Avenue have plans that don't include what's been praised as Sonoma County's best dive bar. So Red's Recovery Room, which rated an affectionate mention in Tom Wait's 1999 song "Filipino Box Spring Hog" will close July 25. "We knew that someday it would happen," Romani said. "But we didn't expect it to happen so soon."
A special guest at Saturday's nostalgic party was Red Lehan's widow, Maureen. She admits the joint that Red bought in 1976 never has boasted much curb appeal. "You looked at it from the outside and a lot of people said, 'I don't even want to go in there,'" she said. "But when you did go in, you were treated like family."
How'd the joint get it's name? Maureen said that before Red bought the business — it had been a bar called Burt's — he worked delivering Schlitz Beer to taverns. And he told Maureen it looked to him like many of the people bellied up to bars were recovering from something — a rough day or night, a death in the family, something. Maureen recalled the era when Red's Recovery Room featured a couple pairs of washers and dryers in a room off the bar. On weekends, guys would buy drinks for women who helped them do their laundry. "It was just a wonderful place to meet people," Maureen said.
Romani and Skomro are looking for a location that might would work as a new home for Red's. "It would be nice if it was in Cotati," Romani said. If she and Skomro do find another place, would they hope to create a Red's that is pretty much the same as the one that's been open on the road to the dump for 16 hours a day, 365 days a year the past 33 years? Romani ran her eyes around the funky bar that probably won't put up much of a fight to a demolition team, smiled. Any place, she said, "is going to be different than this."
Further reading:
Red's Recovery Room official site
Notes:
(1) From Filipino Box Spring Hog (Mule Variations, 1999).
(2) Source: "Tom Waits, In Dreams" Exclaim: Michael Barclay. April/ May, 1999.
(3) Source: Metroactive.com, 2000.
(4) Source: The Bohemian's Best of the North Bay 2005. Food & Drink Writers' Picks. Metroactive.com, 2005.