Tom Waits For No One
"Well, this gigolo's jumpin' salty, ain't no trade out on the streets.
Half past the unlucky, and the Hawk's a front-row seat"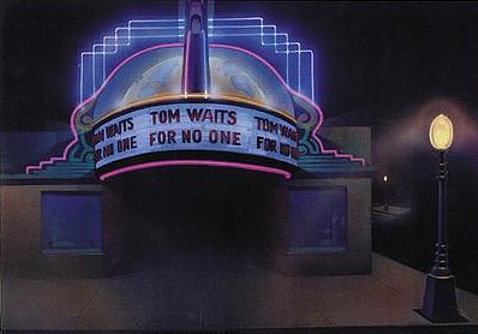 Since the late 1970's, the undercurrent buzz of an obscure animated rock video entitled, "Tom Waits For No One", has been circulating amongst the worldwide hardcore aficionados of Tom Waits. Rumors have been fueled only by occasional and rare photographs; perhaps these are stills from the video itself, or perhaps images taken from the animation cels. The intriguing source of the photos has been a baffling chase for more than twenty years. Who made it, what was it about, where did it originate geographically, why hasn't it been available to the public, and how was it made, all the basic questions, have been nothing short of a discouraging riddle. The 5 1/2 minute animated short is an erotic visual featuring Waits crooning "The One That Got Away" to a sultry long-haired stripper on a desolate boulevard of broken hearts. Think Small Change album cover, Pasties And A G-String.
Production cels for "Tom Waits For No One". Photography by Gary Beydler. Copyright John Lamb, 2002.
(Click pictures to see larger version)
At long last we got in touch with the director of this beautiful and technologically groundbreaking video, John Lamb. Through email conversations(1) John has finally come forth with the history behind this video and graciously clarified the mystery. He explains how he came to make it, the persons involved with the making of it, the creative process of Rotoscoping(2), why the video dived into a black hole, Tom Waits' involvement, and delectable anecdotes on working with Waits.
Production cels for "Tom Waits For No One". Photography by Gary Beydler. Copyright John Lamb, 2002.
(Click pictures to see larger version)
In 1976 John co-invented a "Video Animation System for testing motion picture animation sequences", which in 1980 earned him and his then business partner, Bruce Lyon, an Academy Award Oscar in the category of Scientific and Technical Achievement.
John Lamb: "Basically, the function of the machine is to pre-test animation before it's committed to final production, whether you have 8 drawings or 800 drawings, you are able to record single frame in sequential order and play back at 24 frames per second film speed in order to pre-check the action to see if it moves correctly. If it does, you're off to the races. If it doesn't you make your corrections until you're satisfied. The only way prior to this technology to pre check (pencil test) animation was through a long and costly film process that took 3 to 5 days to complete. Of course our process was video and instantaneous, allowing the animators immediate results and thus a major breakthrough in animation production."
Production cels for "Tom Waits For No One". Photography by Gary Beydler. Copyright John Lamb, 2002.
(Click pictures to see larger version)
The technique of Rotoscoping was developed in 1917 by Max Fleischer and his studio. The pencil test system that John co-developed, and how it significantly advanced the process of Rotographing is the technology for which he earned the Oscar.
John Lamb: "Our first sale went to Ralph Bakshi (Fritz the Cat and Heavy Traffic) in 1977 and our second to Disney Studios. Bakshi expressed extreme interest in a video Rotoscope process. Rotoscoping is a process that takes live action footage and is traced back frame by frame turning it into animation, giving the animation a very realistic effect. If it could be done on video, he'd buy several for his new production," American Pop" so I went to work developing it. Upon completion, we had to prove it's viability, and we needed a subject... In the interim, we drove from our hometown in Laguna Beach up to L.A. to see the new George Lucas film "Star Wars" but the line wrapped around the block and around the corner was the Roxy and Tom Waits was on the marqui..."
John Lamb: "So Tom is at the Roxy with Leon Redbone and Tom did a provocative number "The One That Got Away " with a stripper...ahh what a perfect subject for our Rotoscope test! Bruce got in touch with Tom's management and proposed our concept of turning him into an animated cartoon; they went for it and Tom Waits became part of our project."
The storyboard for "Tom Waits For No One" and screenshot from the original 35-mm film w. Donna Gordon. Photography by Gary Beydler. Copyright John Lamb, 2002.
(Click pictures to see larger version)
John Lamb: "We met with Tom on several occasions and also met Bones [producer Bones Howe - TWS]. We storyboarded the concept and began pre-production. Bruce arranged the shoot at the La Brea Soundstage (on La Brea ave.) in Hollywood. We built several props and set up 5 video cameras to record the shoot. I believe it was early October of 1978. Herb Cohen set us up with the strippers(3) thru a service. We chose 2 faces and they showed up for the shoot..."
Stills from the original 35-mm film. Photography by Gary Beydler. Copyright John Lamb, 2002.
(Click pictures to see larger version)
John Lamb: "This was the first project of its kind for all of us. The technology was new and so was the concept. It was the genesis of video and a brand new medium. We were pioneers and breaking new ground on several fronts and nobody knew about it. When the project was complete, we didn't succeed in selling it, the partnership split up and the film slipped into obscurity. I'm not even sure if Elektra even saw the film. Tom was elated and loved the look..."
Studio shots for "Tom Waits For No One".
Photography by Gary Beydler. Copyright John Lamb, 2002.
(Click pictures to see larger version)
This is the only video or film using this method of image making utilizing Tom Waits as the subject. The video is for adult viewers -for those who like a little action maybe- and recreates precisely a slice of the Tom Waits essence, circa late 1970's. Artistically, apart from its technology, the video is a truly fantastic tribute to the early years of Tom Waits. Director John Lamb, Keith Newton (character design) and the chief animator David Silverman (whose most recent credits include producer of the "Simpsons", the "Wild Thornberrys" and his latest achievement, "Monsters" by Pixar) deserve to be acknowledged for this extraordinary work.
John Lamb: "I toured Waits' apartment at "The Tropicana" on Santa Monica blvd. in Hollywood in the same time period. He had 2 adjoining rooms with the common wall removed to make the joint bigger. Newspapers, manuscripts, ash trays and empties cluttered up the digs about waist to shoulder high throughout. A path literally led from the fridge to the piano.. piano to the couch.. couch to the bedroom and so on. If it was foliage, you would have needed a machete to hack your way through...the path was just wide enough to maneuver your torso through, sometimes having to turn sideways to navigate a tight turn. "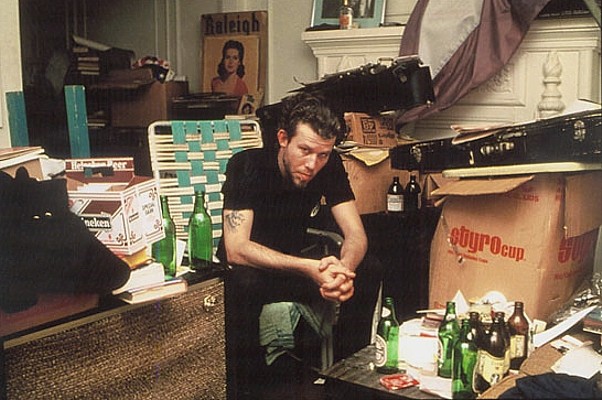 Waits at the Tropicana Motor Hotel.
Los Angeles, early 1977
John Lamb: "Tom also came to our studio in a middle class neighborhood on the outskirts of Beverly Hills/West L.A.... primary residences to old silent era movie stars and the families of Hollywood entertainment personalities like Allen Carr, Yashur Heifitz, Arthur Freed and the sort. So Tom drives up in his 66' Bird with "Blue Valentine" spray-painted on the rear quarter panels [late 1978, as shown on the back cover of the album Blue Valentine - TWS]. His Bird was stuffed with newspapers, manuscripts and clothing from floor to ceiling, just like his apartment. There was only enough room for the driver behind the wheel, even the passenger seat was stuffed to the roof, his vision was completely obstructed except for his forward view out the wind shield, and all these old neighbors are peering out their windows watching this seedy looking character with a wrinkled suit and porkpie Stetson hat meander across the street ... pause and head up the stairs to our old Spanish - studio house. One of the old neighbors called after his arrival to see if everything was ok or if we wanted her to call the police."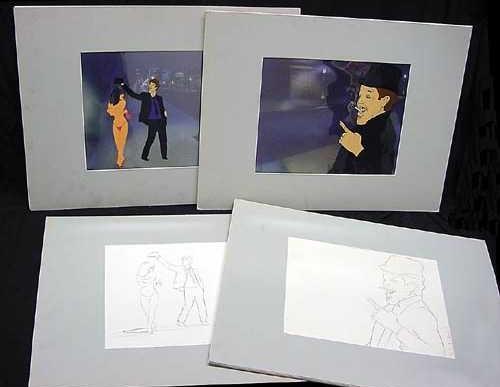 Original production cels and drawings for "Tom Waits For No One".
Photography by Gary Beydler. Copyright John Lamb, 2002.
John Lamb: "I am in possession of all the production elements. I have had this collection in storage for 24 years and it's in excellent condition and order. It's a very unusual and timeless property."
Tom Waits For No One (1979). Directed by John Lamb
Character design by Keith Newton. Head animator: David Silverman
Filmed live on a set in 1978 in Hollywood at the La Brea stage and completed in 1979
Notes:
(1) E-mail conversations with John Lamb. April 13 - May 24, 2002. John Lamb can be contacted at: tikiwax@cox.net
(2) Further reading on Rotoscoping: A History Of Live Action/ Animation, Max Fleischer: The Early Years, Koko The Clown (Out Of The Inkwell)
(3) Herb Cohen set us up with the strippers: One of the dancers is identified as Donna Gordon. "She did a flm in 1976 for John Cassavettes: 'The Killing of a Chinese Bookie', as well as an uncredited dancer in "The First Nudie Musical", also 1976. Also seems like she was in a film called 'Blue City Slammers' in 1989. Apparently she has been married to Ted Bessell, now divorced. Ted Bessell was an actor on a popular TV show called 'That Girl'."
(Special thanks to Dorene LaLonde for research and editorial help)