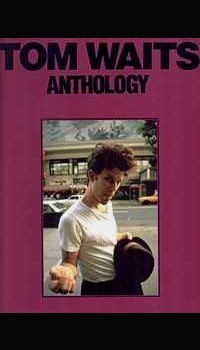 Tom Waits: Anthology (1988)
Publisher: Amsco (Music Sales Corporation Pub.), 1988
Cover: photography by A.J. Barrat/ Retna Ltd.
ISBN: 071191486, 0825625033 (reprint, October 1992), 0846424665 (Beekman Publishing)
Format: 144-page paperback
Arrangements (piano, voice, guitar) and lyrics from Waits' Asylum releases (A sight for sore eyes, Broken bicycles, Christmas card from a hooker in Minneapolis, Eggs and sausage/ In a Cadillac with Susan Michelson, I beg your pardon, I never talk to strangers, Invitation to the blues, Jersey girl, Kentucky avenue, Martha, New coat of paint, Ol' '55, On the Nickel, Ruby's arms, San Diego serenade, Sweet little bullet from a pretty blue gun, Tom Traubert's blues, Whistlin' past the graveyard)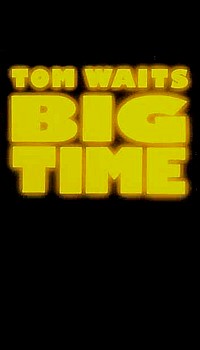 Tom Waits: Big Time (1988)
Publisher: Amsco Publications (a division of Music Sales Corporation, New York), 1988. Distributed by Music Sales Corporation (USA)/ Music Sales Limited (UK)
ISBN: 0825612071 (US), 0711916500 (UK), 0825625181 (1997 reprint)
Format: 60-page paperback
Arrangements (piano, voice, guitar) and lyrics from Waits' 1988 album Big Time (16 Shells From A Thirty-Ought-Six, Telephone Call From Istanbul, Straight To The Top (Vegas), Way Down In The Hole, Johnsburg, Illinois, Cold Cold Ground, Strange Weather, Big Black Mariah, Gun Street Girl, Train Song, Red Shoes, Rain Dogs, Time)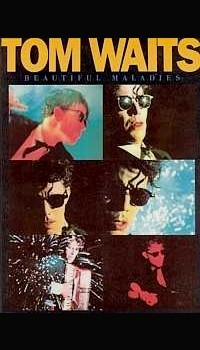 Tom Waits: Beautiful Maladies (1997)
Publisher: Amsco Publications (a division of Music Sales Corporation, New York), 1997. This book copyright � 1997 by Jalma Music Inc., (ASCAP). Distributed by Music Sales Corporation (USA)/ Music Sales Limited (UK)
Cover: cover photography by B. Bromberg. Interior photography copyright � 1993 by Jim Jarmusch
ISBN: 082561581X (USA), 0711961077 (UK)
Format: 256-page paperback
Arrangements (piano, voice, guitar) and lyrics from Waits' Island releases (16 shells from a thirty-ought-six, Anywhere I lay my head, Back in the good old world, Big black Mariah, Black wings, The briar and the rose, Cemetery polka, Cold cold ground, Dirt in the ground, Downtown train, Earth died screaming, Fall of Troy, Falling down, Filipino box spring hog, Frank's wild years, Gun street girl, Hang down your head, Hang on St. Christopher, I don't wanna grow up, Innocent when you dream, I'll shoot the moon, I'll take New York, Jesus gonna be there, Jockey full of bourbon, Johnsburg, Illinois, The last rose of summer, A little rain, Lucky day, Murder in the red barn, November, Rain dogs, Shore leave, Singapore, Soldier's things, Straight to the top (Vegas), Strange weather, Tango till they're sore, Telephone call from Istanbul, Temptation, That feel, Time, Train song, Underground, Walk away, Way down in the hole, Whistle down the wind, Who are you, Yesterday is here)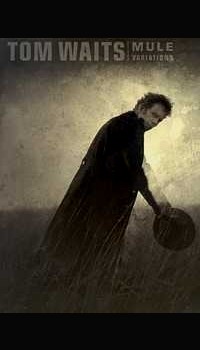 Tom Waits: Mule Variations (2000)
Publisher: Amsco Publications (a division of Music Sales Corporation, New York). January, 2000. Distributed by Music Sales Corporation (USA)/ Music Sales Limited (UK). Copyright � 1999 by Jalma Music (ASCAP)
Cover: photography Matt Mahurin
ISBN: 0.8256.1756.1 (USA), 0.7119.7713.5 (UK)
Format: 100-page paperback
Arrangements (piano, voice, guitar) and lyrics from the 1999 album Mule Variations (Big in Japan, Lowside of the road, Hold on, Get behind the mule, House where nobody lives, Cold water, Pony, What's he building?, Black market baby, Eyeball kid, Picture in a frame, Chocolate Jesus, Georgia Lee, Filipino box spring hog, Take it with me, Come on up to the house)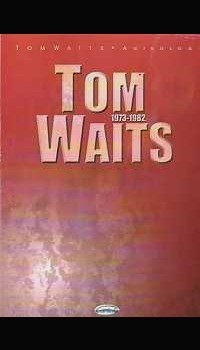 Tom Waits: Anthology 1973-1982 (2000)
Publisher: Nuova Carisch s.r.l. Milan/ Italy, 2000 (Italian reprint)
ISBN: 88.8291.809-2
Format: 84-page paperback
Arrangements (piano, voice, guitar) and lyrics from Waits' Asylum releases (A sight for sore eyes, Broken bicycles, Christmas card from a hooker in Minneapolis, Eggs and sausage/ In a Cadillac with Susan Michelson, I beg your pardon, I never talk to strangers, Invitation to the blues, Jersey girl, Kentucky avenue, Martha, New coat of paint, Ol' '55, On the Nickel, Ruby's arms, San Diego serenade, Sweet little bullet from a pretty blue gun, Tom Traubert's blues, Whistlin' past the graveyard)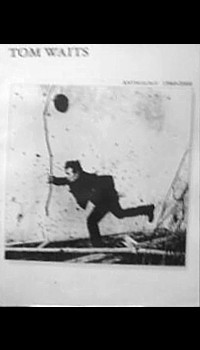 Tom Waits: Anthology 1983-2000 (2001)
Publisher: Nuova Carisch s.r.l. Milan/ Italy, 2001 (Italian print)
ISBN: 88-507-0003-2
Format: 137-page paperback
Cover: photography by Anton Corbijn
Arrangements (piano, voice, guitar) and lyrics from the 1983-2000 era (A Little Rain, Back In The Good Old World, Blow Wind Blow, Chocolate Jesus, Clap Hands, Cold Cold Ground, Fall Of Troy, Hang Down Your Head, Hold On, House Where Nobody Lives, I Don't Wanna Grow Up, In The Neighborhood, Innocent When You Dream, Johnsburg, Illinois, Last Rose Of Summer, More Than Rain, November, Picture In A Frame, Pony, Soldiers Things, Tango Till They're Sore, The Black Rider, The Briar & The Rose, Time, Underground, Walk Away, Walking Spanish, Way Down In The Hole, Who Are You, Yesterday Is Here)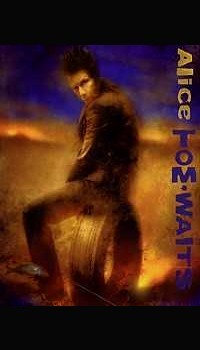 Tom Waits: Alice (2002)
Publisher: Amsco Publications (a division of Music Sales Corporation, New York). January, 2002. Distributed by Music Sales Corporation (USA)/ Music Sales Limited (UK). Book copyright � 2002 by Jalma Music (ASCAP)
Cover: photo and concept, Matt Mahurin
ISBN: 0.8256.1942.4 (USA), 0.7119.9460.9 (UK)
Format:56-page paperback
Arrangement (piano, voice, guitar) and lyrics from the 2002 album Alice (Alice, Everything you can think, Flowers grave, No one knows I'm gone, Poor Edward, Table top Joe, Lost in the harbour, We're all mad here, Watch her disappear, Reeperbahn, I'm still here, Fish & bird, Barcarolle, Fawn)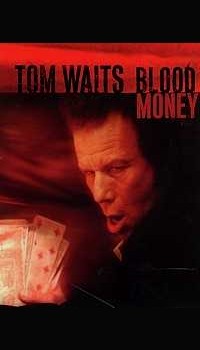 Tom Waits: Blood Money (2002)
Publisher: Amsco Publications (a division of Music Sales Corporation, New York). January, 2002. Distributed by Music Sales Corporation (USA)/ Music Sales Limited (UK). Book copyright � 2002 by Jalma Music (ASCAP)
Cover: photo and concept, Jesse Dylan
ISBN: 0.8256.1943.2 (USA), 0.7119.9461.7 (UK)
Format: 59-page paperback
Arrangements (piano, voice, guitar) and lyrics from the 2002 album Blood Money (Misery is the river of the world, Everything goes to hell, Coney Island baby, All the world is green, God's away on business, Another man's vine, Knife chase, Lullaby, Starving in the belly of a whale, The part you throw away, Woe, Calliope, A good man is hard to find)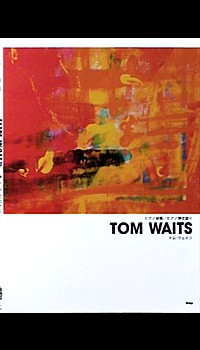 Tom Waits (2007)
Publisher: KMP co., Ltd. (Japan). Published: June 16, 2007
ISBN: N/A
Format: 160-page paperback
Piano arrangements and lyrics for: New Coat Of Paint, Please Call Me, Baby, The Piano Has Been Drinking, Invitation To The Blues, Ruby's Arms, In The Neighborhood, Soldier's Things, Johnsburg, Illinois, Gin Soaked Boy, Hang Down Your Head, Time, Downtown Train, Anywhere I Lay My Head, Innocent When You Dream (Barroom), Yesterday Is Here, Frank's Theme, Cold Cold Ground, Train Song, Falling Down, Goin' Down Slow, I'm Your Late Night Evening Prostitute, I Hope I Don't Fall In Love With You, Grapefruit Moon, A Little Rain, Whistle Down The Wind, Back In The Good Old World (Gypsy), Little Trip To Heaven, Mockin' Bird, Filipino Boxspring Hog, Ol' '55, Closing Time, San Diego Serenade, It's Over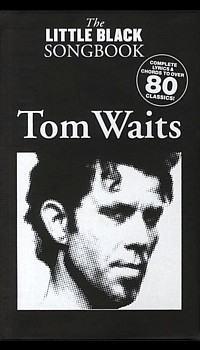 The Little Black Songbook: Tom Waits (2009)
Publisher: Wise Publications (part of the Music Sales Group AM996765). Published: May 21, 2009
ISBN: 9781847729866
Format: pocket-sized collection of songs in chord songbook format, with complete lyrics and guitar chords, edited by Adrian Hopkins.
Chords/ lyrics: The Heart Of Saturday Night, 16 Shells From A Thirty-Ought Six, A Sight For Sore Eyes, A Sweet Little Bullet From A Pretty Blue Gun, Alice, All The World Is Green, Anywhere I Lay Me Head, Big In Japan, Black Wings, Blind Love, Blue Valentine, Burma Shave, Chocolate Jesus, Christmas Card From A Hooker In Minneapolis, Clap Hands, Cold Cold Ground, Come On Up To The House, Day After Tomorrow, Dead And Lovely, Dirt In The Ground, Downtown Train, Eggs And Sausage, Falling Down, Fannin Street, Fumblin' With The Blues, God's Away On Business, Goin' Out West, Gun Street Girl, Hang Down Your Head, Hang On St. Christopher, Heartattack And Vine, Hoist That Rag, Hold On, House Where Nobody Lives, How's It Gonna End, I Don't Wanna Grow Up, I Hope That I Don't Fall In Love With You, I Never Talk To Strangers, I Wish I Was In New Orleans, In The Neighbourhood, Innocent When You Dream (78), Invitation To The Blues, Jersey Girl, Jesus Gonna Be Here, Jockey Full Of Bourbon, Johnsburg Illinois, Just The Right Bullets, Long Way Home, Lucinda, Make It Rain, Martha, New Coat Of Paint, Novembe,r Ol' 55, On A Foggy Nigh,t On The Nickel, Picture In A Frame, Rain Dogs, Rains On Me, Road To Peace, Romeo Is Bleeding, Ruby's Arms, San Diego Serenade, Shiver Me Timbers, Sins Of My Father, Soldier's Things, Step Right Up, Strange Weather, Swordfishtrombone, Table Top Joe, Take It With Me, Temptation, That Feel, The Briar And The Rose, The Piano Has Been Drinking, This One's From The Heart, Time, Tom Traubert's Blues, Town With No Cheer, Trampled Rose, Virginia Avenue, Warm Beer And Cold Women, Way Down In The Hole, Who Are You?, Yesterday Is Here.