Demon Wine: Introduction
Thomas Babe's Demon Wine might as well be called "The forgotten play", cause for some reason it is hidden in the archives, so little is known about this performance. It was first presented by the Los Angeles Theater Center, February 1989. Tom Waits portrayed the character called "Curly".
Previews: February 3 - February 9
Performances: February 10 - March 19
Extended performances: through March 26


Thomas Babe

Waits who'd already had his theatrical debut at the 1986 world premiere of "Frank's Wild Years" had just finished the filming for the movie "Cold Feet" in Montana. During these shootings (late 1988) Bill Pullman showed Waits the "Demon Wine" script. Waits's acting career was at a high, and he was already negotiating with Wilson and Burroughs about them working together on The Black Rider. In 1988 and 1989 Waits had barely done any concert performances, and it was rumoured he might give up his music career (the release of Big Time being his swansong) and focus entirely on acting and theatre. The play (directed by David Schweizer and produced by Diane White) received "mixed reviews" as they say, it would turn out to be the last time for Waits to act on stage.
Tom Waits (1999): "I'm very undisciplined. The schedule is the hardest thing for me. I'm not used to getting up, working [in rehearsals] for eight hours and then back home to go over the text and prepare the next days work. I have my own way of working on my own stuff. This schedule requires a discipline that's unknown to guy's like me." Then as if stringing together straight statements was too much to ask, he added, "It [the discipline] is a bone I do not have in my ribcage."(2)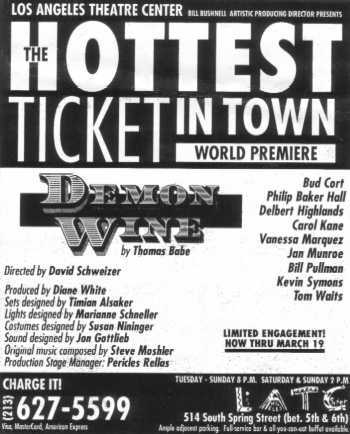 Ticket stubs from the February 12rh and 19th shows.
Demon Wine reviews:
DEMON WINE - Jimmie, a salesman who loved his work, is thrown off balance when his job is "extirpated," and seeks solace in bourbon. Jimmie, who is full of self deluding swagger about his sense of dedication, and is, perhaps, not too bright, is grateful when his friend Curly offers him a job working for his father, Vinnie - even though his prospective employer turns out to be a loan-sharking mobster. Put to work collecting debts and performing other unsavoury tasks, Jimmie, eager as ever to satisfy his boss, is eventually jailed on a murder rap, but bargains his way to freedom by agreeing (secretly) to inform on his associates. But as Jimmie moves up in the mob hierarchy, the more his anguish and longing for respectability increase, exacerbated by the defection of his friend Curly (who falls into disfavour with his father and takes a lowly job in a diner); the guilt he feels at murdering a derelict (a former friend who happened to owe money to Vinnie); and the disaffection of his daughter, Wanda (who loves to fish, but is always hooking on to painful and embarrassing truths). Almost surreal in concept and execution, the play treats these sometimes chilling incidents in heightened, cartoon style, with characters being stabbed or thrown from rooftops only to-reappear later, and with Vinnie's henchmen synchronised in dress and gesture. But, in the end, the message of the play emerges with startling clarity; true morality, as opposed to the abstract notions droned from pulpits, is something which should infuse our lives on a daily basis, and within the confines of individual choice and responsibility."(1)
DEMON WINE - Jimmie (the likable Bill Pullman) is a working stiff who's just lost his job. A bottom-feeder buddy named Curly (Tom Waits) hooks him up with dad Vinnie's (Philip Baker Hall) loan-sharking operation, and before long the well-meaning Jimmie has killed an old schoolyard chum. He's quickly rewarded and begins ascending the crime-syndicate ladder while, for some never-explained reason, Vinnie demotes, disowns and finally proscribes Curly, who slides from creme de la scum to minimum-wage earner to derelict. Get it? As one person rises another falls, each success has its equal, opposite failure. Playwright Thomas Babe is obviously angry at the injustices of bur profiteering age, but he can't shed new light on them and his sprawling play is just an ambulance stuck in traffic. Director David Schweizer does what he can with a considerable talent pool (Carol Kane, Bud Cort and Jan Munroe) to produce a carnival spectacular that can't bring coherency to Babe's demonic whine, L.A. Theater Center, 514 S. Spring St., dwntwn.; Tues.-Sun., 8 p.m.; mats Sat.-Sun., 2 p.m.; thru March 19. (213) 627-5599. (SM)(4)
DEMON WINE - Through March 19: Thomas Babe's "Demon Wine," in its world premiere, is every John Garfield movie retold from some moral core: a decent guy gets sucked into the mob and made a killer. Babe's keen ear for idiom and B-movie patois serves his serious moral purpose. And what a cast! There's Bill Pullman, the Emmy-winning Carol Kane, the wonderful Phillip Baker Hall and a billowing Bud Cort. Even in this company though, the most mesmerizing is Tom Waits who makes every line a musical riff. Director David Schweizer is ruthlessly inventive, like a precocious child. From John C. Mahoney's review of Feb. 20, 1989.(5)
DEMON WINE - Thomas Babe's ghosts appear on stage in his latest play Demon Wine now playing through March 19th at the Los Angeles Theatre Center. Before any apparitions ever appear, we are introduced to Jimmy (Bill Pullman), an auto parts salesman who has just lost his job. He has come seeking a bit of solace from his friend Curly (Tom Waits), who offers anything but sympathy. What he does propose though, Is a chance for great opportunity. The kind of opportunity that one can't avoid but take risks with upon its acceptance. Yet risks, for this ordinary, simple-minded man, are something he's been running from all his life. Yet this time, he decides to gamble a bit. In doing so, he is Introduced to Curly's father, Vinnie (Philip Baker Hall), a man not exactly known as your law-abiding citizen. What Jimmie takes as a one time, non-commital job for Vinnie's organization, results into a series of success and failures that can only ensue from stepping out of one's comfort zone. Tom Waits gives a rich performance as Curly with rough edges so sharp one might prick themselves if they get too close. Bill Pullman's portrayal of Jimmie zeros in on a soft, gentle side of human nature that many of us admittedly have let fall to the wayside. Playwright Thomas Babe's often poignant and thought-provoking dialogue between Jimmie and his own ghosts only prove that, though we may turn our backs on our own ghosts, they are always there - just a heartbeat away. (6)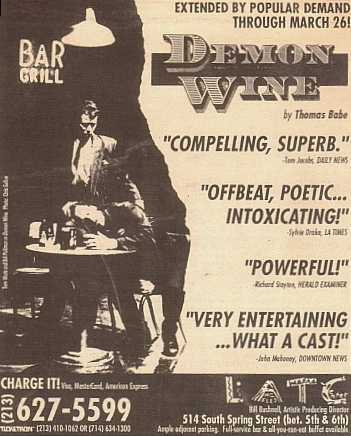 The cast in order of appearance: (3)
Jimmie: Bill Pullman
Curly: Tom Waits
Vinnie: Philip Baker Hall
Fast Mail/Smith: Jan Munroe
Mary: Carol Kane
Bill: Bud Cort
Wanda: Vanessa Marquez
Gangster: Delbert Highlands
Gangster: Kevin Symons
| | | |
| --- | --- | --- |
| Bud Cort | Philip Baker Hall | Bill Pullman |
Little to nothing is known about the texts of the play. A monologue from the play is printed in "The Best Women's Stage Monologues of 1990". Edited by: Jocelyn A. Beard Introduction by: William Esper. Publication date: January 1991 ISBN: 0962272213.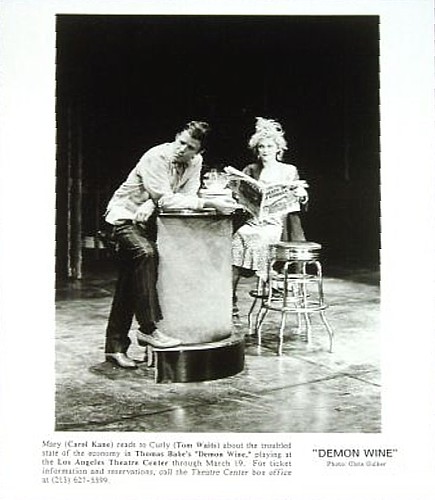 Poster promoting Demon Wine
February 1989
Further reading:
Notes:
(1) Source: "The Guide to World Drama"
(2) Source: "Tom Waits Tries a Dramatic Voice With Demon Wine". Los Angeles Times, Robert Koehler. February 10, 1989
(3) Source: Demon Wine theatre program (The Los Angeles Theater Center, 1989)
(4) Source: L.A. Weekly. March 3-9, 1989
(5) Source: Downtown News (L.A.) February 27, 1989
(6) Source: L.A. Weekly. Lori Peikoff. March, 1989
Special thanks to Dorene LaLonde for donating the Demon Wine theatre program and the Demon Wine ads on this page