Title: Skid Romeo
Source: The Face magazine #41, by Robert Elms. Thanks to Kevin Molony for donating scans
Date: Travelers Cafe/ Los Angeles. September, 1983
Key words: Barrio, Swordfishtrombones, Francis Ford Coppola, Harry Partch, Commercial success, Public image, The Systems

Magazine front cover: The Face magazine. September, 1983
Accompanying pictures

Page lay-out. 1981/ 1982. Photography by Colm Henry. Thanks to Kevin Molony for donating this scan

Page lay-out. 1981/ 1982. Photography by Colm Henry(?). Thanks to Kevin Molony for donating this scan
Skid Romeo
Robert Elms travelled to East LA in search of the almost mythical Tom Waits, owner of a bad liver and a broken down Volvo...
When you ring Tom Waits you get an answerphone, a short burst of congas and a voice that drawls sleepily: "This is Tom, I'm at the beach." But there's no beach near his home in Barrio and like as not he's sitting listening to your message, deciding whether to give you a burst of the live performer. Tom Waits is a famously private person; the Barrio is in east Los Angeles. Waits is also a professional enigma. Despite ten years worth of bitingly intelligent, funny, dramatic music; despite album after album of the most essentially American has to offer, he's still no more than a goateed curio. If you're a fan he's a myth, if you're not he's a nobody. From where I stand Mr. Waits is the only possible reason to leave the highly developed civilization of Manhattan and head for the soporific wilds of the far west. Before leaving the island I popped into Island. Waits, so long on WEA, is now one of Chris Blackwell's boys. "Swordfishtrombone" is his first solo album for three years, and I sat in an office and listened. After two sides of a TDK I was even more excited about meeting the man. Tom has moved to a new motel, the Edward Hopper painting has become an Orson Welles picture. Oriental, disturbing, merry-go-round music with Hammond organ, electric guitar, tom-toms, chimes, bagpipes and a series of dark, tantalising scenarios sketched by a master storyteller. It's a soundtrack to a sad, unmade movie. Ben Gazarra should play the lead.
LA airport is in turmoil. The threat of next year's Olympics has turned it into a chaos of cement mixers and never-ending diversions. You may get lost in the airport, but you'll never even locate the city. "A city with all the personality of a paper cup" Raymond Chandler called it. I think he also said it was "seventy-two-suburbs in search of a city". You can bet they never found it. Los Angeles doesn't really exist. LA is a great big freeway, if you haven't got a car you can't live, if you have there's little worth living for. It's always hot and the scenery's very pleasant but you can drive for hours without hitting anything more exciting than housing estates, incredibly expensive housing estates. Hollywood's just a memory of a sign, a shadow on a hill populated by Californians. Californians are a breed together, united by the fact that they all wear shorts and all talk suntanned nonsense. When I told the girl at the car-hire company that I was there to interview a musician she was genuinely interested. When I told her it was Tom Waits she was genuinely disappointed.
"I like the ocean but I don't feel very compatible with the type of people who are attracted to it." - Tom Waits.
To get from a hotel on Sunset Boulevard to the Travellers rest Cafe you get on the Hollywood Freeway and keep going east. LA's east end is where they keep the 'wet-backs', all the poor illegal Mexican immigrants who've crossed the Rio Grande in order to sit on doorsteps and ride around in old cars that scrape the road.
Tom Waits and his wife are the only white people on their block, but there's several catholic churches and the best chili in the world. Round the corner is the Travellers, a Honduran diner with grey net curtains, a blackened plastic chandelier and a large black and white TV in the corner. When Tom walked in he looked just like his photos, just like one of his songs.
For a start he does talk with that voice. I may have been affected at one time, but there's no doubt that it's now the only voice he has. A lot of the time it's a low gruff whisper, barely audible above the baseball pouring out of the corner. The TV couldn't possibly be tuned down so we paid for a couple of beers and left. We conducted the interview in his battered, maroon Volvo parked out on the strip. "This street's great, every day there's a wedding or a funeral. The weddings are like processions, motorcades of late Fifties automobiles with huge Kleenex chrysanthemums strung across them. The men wear lime-green tuxedos and the girls are straight of the top off a cake."
Tom Waits doesn't like doing interviews, but he's certainly no sloach at them either. Dragging me down to the tawdry glamour of a ghetto was a sweet move. parked outside Los Quangos bar a vibrant, siren punctuated Latin hustle is going on all around us. There's a mariachi band in the bar and a stream of macho, low-rider Romeros wasting away the night. Tom Waits is younger than you expected, not far past thirty. My guess is that he's always consciously made himself seem older than he really is. This is a man with a keen awareness of his image.
"I'm so broke I can't even pay attention."
It's hard to understand how he can be as skint as he looks and claims. he's never risen above cult status, but then he's just written and performed the soundtrack for Francis Coppola's One from The Heart(1). He made a considerably better job of it than the director did, but it doesn't seem to have done too much for his bank balance.
Anybody that's been in this business for more than 10 years has got horror stories about where the money went," is all he's prepared to say about his finances. "Francis is an inventor, a visionary," is his comment on Coppola, a man he gets on well with and intends to work alongside in the future. he's already got a small part in a new Coppola film Rumblefish, a gang movie currently under production on Oklahoma as well as a role as a sideshow freak alongside Robert Duvall in a movie called Stone Boy. Movies or not, more accurately, the mythology of movies have always played a central role in the world and characters Waits created. And it was often difficult to tell whether Tom Waits was the writer or the plot. He seemed to be living out his storylines - on stage he became the man in the song. so it's no surprise to learn that acting and more film scores are a powerful aim. We sat and whistled Bernard Herrmann's haunting theme from Taxi Driver while a series of rowdy epic dramas were being acted out on the street and Tom Waits got less and less guarded. When he's telling the truth he thinks for a long time before answering. When he's spinning an apocryphal one, they roll from his tongue: "Lately I've found an appreciation of Harry Partch(2) who built and designed all his own instruments and died several years ago in San Diego. His ensemble continues under the name of The Harry Partch Ensemble, a friend of mine, Francis Thumm, plays the chromelodeon(3). I'm sure that many of your readers will be familiar with his work." That was his answer when I asked what musicians he admired. When I asked how he met his wife he didn't even grin: "We met at a miserable little funeral in a miserable little town called San Casedra. She was an aerialist with circus Vargas and we were both standing under the same umbrella. It's a very long story, the guy was in his seventies, he choked on a chickenbone." Questions about his private life tend to be met with refusals or yarns. But it seems a safe bet to say that he's the son of an itinerant school teacher who attended a mainly black junior high school in LA where he fell in love with James Brown, Wilson Picket and the Temptations. At 15 he was in a school soul band called The Systems(4) and later became a professional accordion player in a polka band. He became more and more interested in jazz and the various ethnic musics which abound in multi-racial America and he ended up as an eclectic and eccentric solo singer-songwriter. "In America you have to control your diet very carefully. If you feed on things that are easy and accessible, that's what you put out yourself. The kind of exciting chemical explosions which take place when you're experimenting are much more likely to occur if you make mad choices. But mavericks who stray from the middle of the road tend to get very lost in the vastness of middle America's musical conservatism. It's surprising that Tom Waits with his sleazy bar-room jazz, his earthy bar-room imagery and his beat-up bar-room image has survived as long, become as successful as he has. For a son of the Golden State he's a very curious being, for a white American musician he's a literal one-off.
With his obvious talent as a songwriter and performer, a decision to appeal to the Springsteen-fed masses could have bought fame, acclaim and x amounts of dough. But when I put that to him Waits replied sharply to a question that has obviously been put to him a hundred times. "There's nothing more embarrassing than a person who tries to guess what the great American public would like, makes a compromise for the first time and falls flat on his face. I don't intend to do that." And there's no way you can possibly doubt him. After ten years of record company pressure and critical acclaim followed by public apathy he really doesn't mind the fact he's still more likely to play clubs than stadiums. As long as he can still play and there are people to listen then he'll carry on. "I would rather be a failure on my own terms than a success on someone else's. That's a difficult statement to live up to, but then I've always believed that the way you affect your audience is more important than how many of them there are." By appealing to people force-fed on rock instead of aiming at jazz purists, he's undoubtedly influenced his audience, introduced them to a style of musicianship and songwriting that most people never hear. Yet "Swordfishtrombones" marks a radical and intriguing departure from his warped Tin Pan Alley world of not too grand piano, walking bass and wailing sax. It certainly isn't an attempt to hit the commercial mainline, but it's definitely a shot at a different vein. "When you establish a neighbourhood for yourself as an artist it's important to keep challenging that, to move on. So I tried to get a more exotic sound. It's a kind of oriental cabaret." And he's done it brilliantly. This isn't a new Tom Waits, there's the same challenging eclecticism, the same cynical romanticism, the same delight in words. But it's a new sound, a sound without real comparison. Tom Waits still stands alone. "I feel I've shaken off an identity that was hindering me for some time. People thought I was some kind of a throwback, a time-warp demented oddity." In real life he's neither demented nor that odd, but his music is still slightly both. Instead of a throwback he's a step forward. All in all he seems quite a happy man: "I still like music, it gives me a lot to complain about."
Notes:
(1) One from The Heart: further reading: One From The Heart
(2) Harry Partch: San Diego multi-instrumentalist. Developed and played home made instruments. Released the album" The World Of Harry Partch". Major influence for the album 'Swordfishtrombones'. Partch died in San Diego, 1974. Further reading: Partch, Harry 1; Partch, Harry 2; Partch, Harry 3;
(3) Chromelodeon:
- The Chromelodeon was never used on any Tom Waits record. Harry Partch built his Chromelodeon in at the University of Wisconsin. Reeds are inserted for a 43-tone-to-the-octave scale. Thus, an acoustic octave covers that many keys and reeds, successively, and measures some three and a half keyboard octaves. The scale is in just intonation, and each tone is a frequency ratio to a fundamental, shown on the keyboard by colors. With the thirteen sub-bass reeds, and the stops for higher and lower tones in the second cell row, the total range of the instrument is from the lowest piano C to the third C# above middle C, slightly more than five acoustic octaves.
- Tom Waits (1983): "That's (Underground) Victor Feldman on bass marimba, Larry Taylor on acoustic bass, Randy Aldcroft on baritone horn, Stephen Hodges on drums and Fred Tackett on electric guitar. I had some assistance from a gentleman by the name of Francis Thumm, who worked on the arrangements of some of these songs with me. Who plays gramolodium with the Harry Partch Ensemble headed up by Daniel Mitchell. So he worked closely on most of these songs" (Source: "A Conversation with Tom Waits (Swordfishtrombones)" Island Records music industry white label 12" promo. Date: September, 1983)
- Tom Waits (2000): "I have a good friend, Francis Thumm, who used to play the chromelodeum with The Harry Partch Ensemble and he has been a music teacher for a lot of years, he has been a profound influence on me. He is a river to his people." (Source: "Tradition With a Twist" Blues Revue magazine No. 59 (USA). July/August, 2000 by Bret Kofford)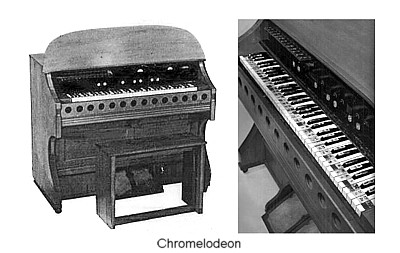 (4) The Systems:
- Interviewer - Did you always want to be a musician? TW: "Yeah, I guess so, I couldn't think of anything else I really wanted to be, seems to be today nobody wants to be anything but, nobody wants to be a baseball player anymore or anything - everybody wants to be a rock n roll star. I was always real interested in music, it never really struck me to write until I guess about the late 60's, about '68 or '69 I started writing, up until then I just listened to a lot of music, played in school orchestras, played trumpet in elementary school, junior high, high school, went through all that and hung around with some friends of mine that played classical piano and picked up a few little licks here and there, played guitar and stumbled on the Heritage - and actually the first real songwriter I really saw and really got enthused about was Jack Tempchin and that was in about 1968 at the Candy Company on El Cajon Boulevard, he was playing on the bill with Lightning Hopkins and he was real casual and everything, it was just something I wanted to try my hand at, so I tried my hand at it, I don't know, I guess you get better as you go along, the more music you listen to and the more perceptive you become towards melody and lyric and all. The only place really to play in San Diego were folk clubs. I used to go to a lot of dances. I played in a band in junior high called The Systems... I played rhythm guitar and sang. I listened to a lot of black artists, quite a few black artists. I had a real interest in that - James Brown and the Flames were real big, I went to O'Farrell Junior High School, all black junior high school, and I went out to Balboa(?) and saw James Brown - he knocked me out, man, when I was in 7th grade. So I've kept up on that scene too and I listen to as many different kinds of music as I can." (Source: "Folkscene 1973, with Howard and Roz Larman" (KPFK-FM 90.7). Date: Los Angeles/ USA. August 12, 1973)
- TW: "I did a few rock things; I was in a group called the Systems, I was rhythm guitar and lead vocalist. We did Link Wray stuff. Hohman: Link Wray - that's the guy who made all those killer rock instrumentals back in the late '50s, Rumble, Rawhide, Comanche, The Swag. TW: Yeah, Rumble was his first hit. I've been trying to pin down Frank Zappa's guitar style for a long time and I think Link Wray is the closest I can get. I think Frank is trying to be Link Wray. We did stuff by the Ventures, too, a lot of instrumentals. I finally quit that band; we had a drummer with a harelip and a lead guitar player with a homemade guitar. Actually, there were only three of us, so in a sense we were sort of like pioneers." (Source: "Bitin' the green shiboda with Tom Waits". "Down Beat" magazine. Marv Hohman. Chicago. June 17, 1976)
- "Around this same time Waits formed his first group, soulfully named The Systems. "I played rhythm guitar and sang," he comments. "Rhythm and blues - a lot of black Hit Parade stuff, white kids trying to get that Motown sound. I went to an all-black junior high and was under certain social pressure. So I listened to what was around me." Tom dropped out of high school during his junior year, because he was already working by that time - not as a musician, but as a cook. Several years on the graveyard shift at an all-night diner in San Diego, besides providing him with what would become fuel for subsequent songs and stories, convinced him that there had to be a better medium through which to channel his energies and words. As he told the Los Angeles Times, "I knew when I was working there I was going to do something with it. I didn't know how, but I felt it every night." (Source: "Tom Waits - Offbeat Poet And Pianist". Contemporary Keyboard magazine, by Dan Forte. April, 1977)
- TW: "Heck I don't know if it was a soul band. It was surf and soul. I played guitar and sang. In those days, you didn't play a lot of gigs. You'd play a dance every now and then. I knew I wanted to do something with music, but navigating that seems almost impossible. It's like digging through a wall with a spoon, and your only hope is that what's on the other side is digging with the same intensity towards you... The band was called the Systems. Up until that point, you know, I played the ukulele when I was a kid and I played a guitar - my dad gave me a guitar. There was always music in the house. Frank Sinatra, Harry Belafonte and Louis Armstrong and Mexican radio." (Source: "Tom Waits". SOMA magazine. July, 2002 by Mikel Jollett)