Title: Late Night With Conan O'Brien
Source: Late Night With Conan O'Brien NBC tv show (USA). Recorded May 4, 2007 Orpheum Theater San Francisco/ USA. Transcript from tape by "Pieter from Holland" as published on the Tom Waits Library. Thanks to Sarah V. for providing video files
Date: Aired May 4, 2007
Keywords: Orphans, devil image, crows
Accompanying pictures

Source: Late Night With Conan O'Brien NBC tv show (USA). Date: May 4, 2007. Credits: video screenshot/ NBC. Thanks to Sarah V. for providing video files

Source: Late Night With Conan O'Brien NBC tv show (USA). Date: May 4, 2007. Credits: video screenshot/ NBC. Thanks to Sarah V. for providing video files
Source: Late Night With Conan O'Brien NBC tv show (USA). Date: May 4, 2007. Credits: video screenshot/ NBC. Thanks to Sarah V. for providing video files

Source: Late Night With Conan O'Brien NBC tv show (USA). Date: May 4, 2007. Credits: video screenshot/ NBC. Thanks to Sarah V. for providing video files

Source: Late Night With Conan O'Brien NBC tv show (USA). Date: May 4, 2007. Credits: video screenshot/ NBC. Thanks to Sarah V. for providing video files
Late Night With Conan O'Brien

CO: "Orphans: Brawlers, Bawlers and Bastards" is the latest album from my next guest who is one of the most acclaimed artists of the past three decades. It's a real pleasure to welcome... Tom Waits! (applause)
(Performs: Lucinda)
CO: Alright everybody we're back. I'm sitting here with Tom Waits. And uh, first of all: that was a fantastic performance, thank you very much for being here!!
TW: Thank you (waving to the audience).
CO: You got this power over them. Uh, I noticed during your performance you had this shovel out there and you still have the shovel. What is the significance of the shovel please?
TW: Uhhh... shovel please. Well, alright this started at home and my family thinks I'm a little imbalanced but I wanna get your opinion.
CO: Get my opinion, okay.
TW: You know when they took a cheese sandwich and they said they found the image of the virgin Mary on the cheese sandwich?
CO: That's right I remember that, yeah.
TW: And they were selling it for like 23 grand?
CO: Yeah, it sold for a lot of money, yeah.
TW: Well, this is kind of the same thing, only it's a shovel from my fireplace. And uh... I found the image of the Devil on it (laughter).
CO: Let's see. Hold that out there and see if we can... Let's put it up right on the desk. I think that's the best way to get a shot of it
TW: You tell me....
CO: Yeah uh let's see if we can see that... Yeah! YEAH! (applause). That is the Devil!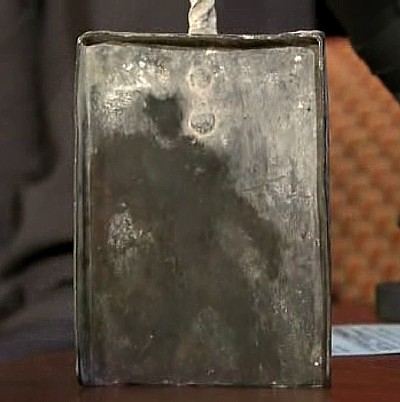 TW: It's not a photograph...
CO: No (laughs).That is the Devil!
TW: There is evidence that there is an evil uh entity in my fireplace.
CO: Yeah, yeah!
TW: It's some kind of a weird primitive e-mail that I got. (laughter). So...
CO: We should sell this over here. We'll get the bidding going at ten thousand dollars.
TW: Alert the Vatican!
CO: Yeah, yeah...
CO: You know I was talking with Snoop(1) about words, and he loves making up words. You're fascinated with words. A word will come along and it will catch your ear in a certain way, and you'll play with it for a while? Is that true?
TW: Well I guess we all do. I mean, because words are like music. They're music before you understand what they are they already have some value to them, you know. I find that if you put a pause in the wrong place, in a word or in a sentence, it completely changes the values in the sentence. You know, like uhm... Let me give you an example. I had a hamburger the other night and uh I asked the lady if she would give me some "condom-ments"(2) (laughter).
CO: Yeah, true.
TW: See the difference?
CO: You like, burped in between and you broke it up accidentally, yeah.
TW: Condom-ments, it sounds like something you get at The Ritz.
CO: Yeah! (laughter)
TW: And I did!
CO: Yeah, uhm, do you... You also love... as you mentioned you love words you love sounds. Uh, and you like sounds that you don't usually hear in music. What, you like to create sounds different ways.
TW: Okay, alright, here's an example. I mean, alright everybody likes the sound of like for example uh somebody tossing a piano out of a window like a forty story building (applause).
CO: Great sound, that's a great dramatic sound, yeah.
TW: Here's the one that killed me, is an orchestra tuning up. It sounds simple but a lot of times I leave the theatre after they're done tuning up.
CO: You don't stick around for the whole thing, you just go, yeah.
TW: Yeah I don't want to waste my time.
CO: Yeah.
TW: I got what I came for.
CO: Sure.
TW: But uh, but the thing is about instruments is that uh. Like, if you take and find the lid for a fifty gallon drum and you hit it with a mallet, you know? You get a pleasing sound. I get a pleasing sound, I'd say. Uhm, the difference is that most things you find on the side of the road, if you introduce them into showbusiness that way it's like a lot of them won't work with you anymore.
CO: You're saying an animate object, it's attitude about itself changes once you make it a musical instrument?
TW: Yeah. The lid starts feeling like a Chinese gong and...
CO: (laughs)
TW: They get uppity.
CO: It starts to know it's in the business and it wants ten percent. It wants...
TW: And never stops.
CO: You put strings on a dumpster once didn't you? To get a sound out of it? And I'm saying that in an accusing way I realized but...
TW: I did.
CO: You did.
TW: Yeah I did put strings on a dumpster. And uh I did get a pleasing sound from it. (applause)
CO: I believe it. You know I listened to "Orphans: Brawlers, Bawlers and Bastards" and actually there are sections where you, a section where you actually give out some information, uh where you can learn about insects? Is that right? In the album?
TW: It's called Army Ants(3).
CO: Army Ants, yeah.
TW: Uh... "The Whirligig Beetle is wary and fast with an organ to detect the ripples. The Arachnid Moths lay their eggs inside other insects along the borders of fields or roads..." (applause)
CO: You like to observe nature yourself. What have you learned observing nature? What have you learned from just observing animals? Like recently?
TW: Okay, well you know. it's May, so there's a lot of crows out. Uh, everybody knows that crows are the teenagers of the birdworld and that they uh...
CO: Crows are the teenagers of the birdworld? I didn't know that?
TW: Well, they finish all their work by 9 am. and they have all this free time and, you know? A lot of them play soccer you know? (laughter)
CO: They play soccer!?
TW: Well I saw it, in my yard with a white rock. (laughter)
CO: No good punk kids!
TW: Kids today...
CO: Uh, "Orphans: Brawlers, Bawlers and Bastards" is in stores now. And this was uh, this is a real honour. Thank you so much sir! Yeah really! (applause)
TW: Thank you.
CO: Tom Waits everybody! We're gonna take a break, we'll be right back!
Notes:
(1) Snoop: Rap artist "Snoop Dogg", previous guest on the show.
(2) condom-ments: con·di·ment (kŏn'də-mənt) n. A substance, such as a relish, vinegar, or spice, used to flavor or complement food.
(3) Army Ants: read lyrics: Army Ants.