Eyeball Kid
Well, Zenora Bariella and Coriander Pyle
They had sixteen children in the usual style
They had a curio museum and they had no guile
All they ever wanted was a showbiz child
The seventh of December nineteen fortynine
They got what they'd been wishing for all of the time
He grew up in a trailer, by the time he was nine
He rolled off to join the circus, telling fortunes on the side
Hail, hail, The Eyeball Kid
Well, the first time I saw him was a Saigon jail
Cost me twentyseven dollars just to go his bail
I said your name will be in lights, and there's no doubt
But you got to have a manager, that's what it's all about
Yeah, yeah, yeah
The people would point, the people would stare
I'll always be here to protect you and to cut down on the glare
I know you can't speak, I know you can't sign
So cry right here on the dotted line
Hail, hail, The Eyeball Kid
Well, he was born without a body, not even a brow
I made the kid a promise, I made the kid a vow
He's not conventionally handsome, he'll never be tall
He said, 'All you got to do is book me into Carnegie Hall'
He's just a little bitty thing, he's just a little guy
But women go crazy for the big blue eye
How does he dream, how does he think
When he can't even speak and he can't even blink
I said: Hail, hail
The Eyeball Kid
Hail, hail
The Eyeball Kid
Hail, hail
Eyeball Kid
Give it up and throw me down a couple of quid
Everybody wants to see the Eyeball Kid
They say, how does he dream, how does he think
When he can't even speak, and he can't even blink
We're all lost in the wilderness, we're blind as can be
He came down to teach us how to really see
Hallelujah, Hallelujah, Hallelujah
So give it up and throw me down a couple of quid
Everybody wants to see the Eyeball Kid
Give it up and throw me down a couple of quid
Everybody wants to see the Eyeball Kid
Give it up, give it up
Give it up and throw me down a couple of quid
Everybody will want to see the Eyeball Kid
Eyeball Kid
Eyeball Kid
Oh, Eyeball Kid
Written by: Tom Waits and Kathleen Waits-Brennan
Published by: Jalma Music (ASCAP), © 1999
Official release: Mule Variations, Anti Inc., 1999
Arrangements and lyrics published in "Tom Waits - Mule Variations" (Amsco Publications, 2000)
Known covers:
The Farrago Sessions. Michael Stanley. August 29, 2006. Line Level Music
Red Door. 3 Green Windows. December 26, 2006. Self-released (USA)
- Tom Waits (1992): "So, I don't know where your musical education usually comes from, a little bit you heard when you were a kid, and then you're off on your own expedition, and what you do with it is up to you, how you integrate it. I have always felt like I'd find things that have fallen off a truck. Like the sound of this, I'll find some way to integrate it. I go at it like the Eyeball Kid. I try to sorta annex this, change this, I don't know how it all comes together, but once you have musical confidence, and that usually comes from being naive enough to explore without feeling self-conscious, cause you really do want songs to like you as much as you want to like them, and there are things about music that... There are places in music that you can only go if you're an idiot." (Source: "Morning becomes Eclectic". KCRW radio Interview: Chris Douridas. Rebroadcast January 2 1998. Original broadcast 1992?)
- Rip Rense (1999): "Eyeball Kid" is based on the comic strip you once mentioned that your son, Casey, is a fan of? TW: "Could he tour? Could he get Bausch & Lomb to sponsor a tour? Spends most of his days in a jar of vaseline. Or would it be Ray-Ban? One Ray-Ban? He'd be doing the Monocle Tour." (Source: "A Q&A about Mule Variations". MSO: Rip Rense. January?, 1999)
- Michael Barclay (1999): There's a song on your new album about a freak show attraction called "Eyeball Kid," a character who also appeared on Bone Machine. Many of your songs involve people who are considered freaks: either physical or social freaks, or just hopelessly romantic emotional freaks. TW: "Most of us, in some form or another, are fascinated with anything that makes us different. Most of us from time to time have felt that way and can relate on a certain level, whether it's internal or external.... Obviously I'm making light of something [on "Eyeball Kid"] - and I hope it's not at anybody's expense, because there are people with physical deformities and I'm not poking fun at that at all. I'm just taking the idea of show business to a ridiculous place. It's really more autobiographical than anything else. " (Source: "Tom Waits, In Dreams". Exclaim: Michael Barclay. April/ May, 1999)
- Jonathan Valania (1999): I notice that the Eyeball Kid has the same birth date as you. TW:" Just a coincidence. The Eyeball Kid is a comic-book character. Actually, it was Nic Cage that reintroduced me to comic books. I hadn't thought about comic books since I was a little kid, but he seemed to carry that mythology with him. It was inspiring to see him keep alive some of those principles that we associate with childhood, to the point where he named himself after Cage, the comic-book hero. But I was trying to imagine what it would be like for a person with an enormous eyeball for a head to be in show business. If Barnum & Bailey were still around, I imagine he would have thrown in with them. The tour would be sponsored by Visine or Bausch & Lomb. It's a metaphor for people that get into show business, because they usually have some kind of family disturbance or are damaged in some way or another. I had a manager when I was a kid, I threw in with a guy named Herbie Cohen, who worked with Zappa. I wanted a big bruiser, the tough guy in the neighborhood, and I got it." (Source: "The Man Who Howled Wolf". Magnet: Jonathan Valania. June/July, 1999)
THE EYEBALL KID
"It's a metaphor for people that get into show business,
because they usually have some kind of family disturbance
or are damaged in some way or another."
One reason why Waits's lyrics have so much credibility is, him using a lot of names and places in his songs. It's an old trick but it always does the thing. Beginning with Martha and Rosie from "Closing Time" Waits kept using names of real or fictional characters. Somehow we are to believe these names belong to real people and as a matter of fact most of them do (Chuck E. Weiss, Al Cohn, George Perkins, Gene Krupa, Chesty Morgan, Texas Guinan, Joe and Sal, Georgia Lee). But what about Tom Traubert, or Zenora Bariella, or the Eyeball Kid?
"Have I told you all about the Eyeball Kid?
He was born alone inside a petri dish.
He was born without a body or a brow.
("Hang Me In The Bottle": Alice - Knee 5 The Cheshire Cat, 1992)
"Well Pale Face said to the Eyeball Kid
She just goes clank and boom and steam"
("Such A Scream": Bone Machine, 1992)
"Eyeball Kid"
(Track from: Mule Variations, 1999)
The Eyeball Kid is as a matter of fact a comic-book character created by Australian writer and artist Eddie Campell. Eddie Campbell has been producing stories about the god of wine, Bacchus, since 1986. The tales tell the histories of Bacchus (also known as Deadface), Joe Theseus, the Eyeball Kid (a weird creature with ten sets of eyes, one he lost in a fight and another of them's glass "Which one? The one with the kindly look") and the gods of Olympus from their ancient heydays to the present. Power struggles, jealousy and vengeance, criminal plots, amazing creatures and monsters, blood feuds and deadpan humor have filled the pages of Campbell's stories about characters who are far from mortal. The Bacchus stories have appeared from numerous publishers over the years, finally appearing from the self-published Eddie Campbell Comics.
"Eddie Campbell's Bacchus is a wild and hilarious mythological adventure imbued with unparalleled social-political insight. It's a story of a few Greek gods who have somehow managed to survive the last four millennia. And even though they're the "wisest" and most powerful beings on Earth, they can't seem to rise above the whirlwind of petty grudges and skirmishes that bind them. But what makes this series so special is that by some creative miracle, it possesses every possible quality one could hope for in a quality comic book: a unique and engaging art style; a brilliantly-crafted and intriguing story; completely believable and captivating characters; an undercurrent of humor, sarcasm, and irony; a thought-provoking subtext full of social and political realism; a well-researched examination of history; and yes -- I'll admit it! -- superheroes. In its own weird way, Bacchus could almost be described as a revisionist-superhero tale told in epic Greek proportions. Don't miss it!"(1)
Deadface #5
Harrier Comics 1/88

Bacchus #5
Eddie Campbell Comics 9/95

Bacchus Vol.4: The Eyeball Kid
Eddie Campbell Comics 4/98
Waits admitted Campell's Eyeball Kid inspired him to create his own version.
Tom Waits: "There's a superhero called the Eyeball Kid that I've grown fond of. Actually, I've just heard the name. But I had my own image of what that is. I imagined it was just a guy with just nothing but an eyeball. Born without even a brow. And he could roll into places, and have a terrific view of anything that he wants. There is a comic book character, the eyeball kid, but he's different. He has a lot of eyeballs --- about eight. And that's great, too. So a Bone Machine is a little bit like one of those superheroes. Like he was thrown out of a car on the freeway at 90 mph, and he rolled over by a call box, wrapped around the pole, and crawled into the bushes where he spent the next year nursing his wounds. Some corn fell off the back of a truck and rolled over and he ate the corn. Quart of milk every now and then would fall off a truck and he'd have milk. There's a big bump there, and when trucks hit that bump, things would fall out. Some cabbage ... He'd always have enough to eat. And he lived in the bushes ... And then he goes into town and he becomes a crime fighter for justice and truth. And trying to clean up Los Angeles of all the crooked managers and attorneys and police."(9)
Tom Waits: "The Eyeball Kid is a comic-book character. Actually, it was Nic Cage that reintroduced me to comic books. I hadn't thought about comic books since I was a little kid, but he seemed to carry that mythology with him. It was inspiring to see him keep alive some of those principles that we associate with childhood, to the point where he named himself after Cage, the comic-book hero." (2) Nic Cage by the way is Nicolas Cage (Nicholas Kim Coppola, the son of comparative literature professor August Coppola a brother of director Francis Ford Coppola). Cage and Waits are close friends. They might have met during the filming of Francis Ford Coppola's "One From The Heart" or maybe " Rumble Fish" from 1983 or "Cotton Club" from 1984 (Waits and Cage both had a role in these movies).
And in 1999 some people talked to Waits for a while after his New York shows: "Alex asked Tom if there was a relation between the Eyeball Kid of the song and the character in the comic book Bacchus by Eddie Campbell (which I've been told - if I remember correctly - is based on Greek mythology). Tom told Alex that yes, when he saw that he became fascinated by the idea of a character with no body and was inspired to do his own version, very different but that's where he said it came from!" (3)
Apparently, the Eyeball Kid meant more to Waits then just another funny name. Waits turned the Eyeball Kid into a metaphor, giving him the opportunity to get something off his chest. He was even going to call the Mule Variations album after the Eyeball Kid:
Tom Waits: "Maybe we'll record in May, sometime in May, part of May part of June. I don't know what it's called yet. I wanted to call it the Eyeball Kid but that probably won't end up being the title. It'll probably be something else that I haven't thought of yet. But we're just putting the songs together". (4)
The Eyeball Kid #1
Dark Horse Comics 4/92

The Eyeball Kid #2
Dark Horse Comics 5/92

The Eyeball Kid #3
Dark Horse Comics 6/92
It's interesting to see what Waits does with this comic-character. Campell's Eyeball Kid is a creature with ten sets of eyes, fighting Greek gods, stealing and murdering. Waits's Eyeball Kid is merely a big blue eyeball "born without a body inside a petri dish", spending most of his days in a jar of Vaseline. But he not only changes its appearance, he also puts the Kid in a totally different environment. He turns it into a showbiz child, a circus freak. This is Barnum & Bailey, it's The Elephant Man. But he goes even a step further, he adds all kinds of biographical clues and turns the kid into a metaphor...
Tom Waits: "It's a metaphor for people that get into show business, because they usually have some kind of family disturbance or are damaged in some way or another. I had a manager when I was a kid, I threw in with a guy named Herbie Cohen, who worked with Zappa. I wanted a big bruiser, the tough guy in the neighborhood, and I got it." (6)
The Eyeball Kid is given the same birthday as Waits ("The seventh of December nineteen forty nine"). And just like young Waits in 1969 more or less reluctantly went in business with Herb Cohen, the Eyeball Kid seems to be in the same situation ("But you got to have a manager, that's what it's all about").
Tom Waits: "Most of us, in some form or another, are fascinated with anything that makes us different. Most of us from time to time have felt that way and can relate on a certain level, whether it's internal or external.... Obviously I'm making light of something and I hope it's not at anybody's expense, because there are people with physical deformities and I'm not poking fun at that at all. I'm just taking the idea of show business to a ridiculous place. It's really more autobiographical than anything else."
Tom Waits: "That's like a little showbiz tune, about the perils of the business. "You got to have a manager, that's what it's all about..." If you wanna get into music, someone will eventually say that to you." (7)
Before the release of Mule Variations Waits had more or less taken a break. And somehow this is not accepted in today's showbiz. Fans and the press went impatient and everybody was making a noise. There was all kinds of rumours about Waits, people demanded to know what was going on. He might be getting something off his chest when he sings

"Everybody wants to see the Eyeball Kid
They say, how does he dream, how does he think
When he can't even speak, and he can't even blink"
(The Eyeball Kid: Mule Variations, 1999)
Waits, of course, is the Eyeball Kid made good, an archetypal rock eccentric. During the Mule Variations tour The Eyeball Kid was the highlight of his shows. The song was mostly used as a chance to showcase each of the individual band-members. Waits would wear a hat with metallic reflectors that caught the light and sent bright beams out from his head careening over the theatre's ceiling, as if his skull was exploding in illumination. The audience loved it, and so did Waits.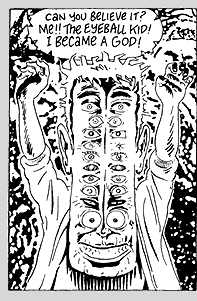 The Eyeball Kid (Eddie Campbell)
As the Eyeball Kid connection was discussed on "the comics journal's" website Eddie Campell returned with this: "Let's exit with a striking line from J.M.G. Davies' translation of Arthur Schnitzler's 1926 Traumnovelle, the story upon which Kubrick's eyes Wide Shut was based. '...and those trivial encounters become magically and painfully interfused with the treacherous illusion of missed opportunities.'" (8)
Further reading:
Notes:
(1) Chris Staros, The Staros Report Eddie Campell Comics
(2) "The Man Who Howled Wolf ". Magnet: Jonathan Valania. June/July 1999
(3) Submitted by Kees Lau. As sent to RainDogs Listserv discussionlist. December 12, 1999
(4) KCRW-FM radio. Santa Monica. March 31, 1998
(5) Source: "Tom Waits, In Dreams". Exclaim: Michael Barclay. April/ May 1999
(6) "The Man Who Howled Wolf ". Magnet: Jonathan Valania. June/July 1999
(7) Source: Mojo Interview With Tom Waits". Mojo magazine, by Barney Hoskyns. Santa Rosa. April, 1999
(8) Submitted by Mark Cook. As sent to Raindogs Listserv discussionlist. August 11, 2000
(9) Bone Machine press kit, Rip Rense. Late 1992