Ol' '55
(Early demo version, 1971)
Time went so quickly
I went lickety-splickly(2), out to my old '55
Pulled away slowly, feeling so holy
God knows, I was feeling alive
And now the sun's coming up
I'm riding with Lady Luck
Freeway cars and trucks
Stars beginning to fade
and I lead the parade
Just a-wishing I'd stayed a little longer
Oh, Lord, that feeling's getting stronger
Now it's six in the morning
gave me no warning
I had to be on my way
Lights passing and trucks are flashing
I'm on my way home from your place
And now the sun's coming up
I'm riding with Lady Luck
Freeway cars and trucks
Written by: Tom Waits
Published by: Warner Chappell Music Ltd., 1971-1992 & Bizarre/ Straight Records, 1992
Official release: "The Early Years 2". Issued under licence from Bizarre/ Straight Records by Edsel Records, 1992
Recorded July - December 1971, Los Angeles, CA
(Not authorized by Tom Waits)
Ol' '55
(Closing Time studio version, 1973)
(one, two, three, four)
Well, my time went so quickly
I went lickety-splitly(2) out to my ol' fifty-five
As I pulled away slowly, feelin' so holy
God knows I was feelin' alive
Now the sun's comin' up, I'm ridin' with Lady Luck
Freeway cars and trucks
Stars beginnin' to fade, and I lead the parade
Just a-wishin' I'd stayed a little longer
Oh Lord, let me tell you that the feeling gettin' stronger
And it's six in the mornin'
Gave me no warnin', I had to be on my way
Well, there's trucks all a-passin' me, and the lights all a-flashin'
I'm on my way home from your place
And now the sun's comin' up, I'm ridin' with Lady Luck
Freeway cars and trucks
Stars beginnin' to fade, and I lead the parade
Just a-wishin' I'd stayed a little longer
Oh Lord, let me tell you the feeling gettin' stronger
And my time went so quickly
I went lickety-splitly out to my ol' fifty-five
As I pulled away slowly, feelin' so holy
God knows I was feelin' alive
And now the sun's comin' up, I'm ridin' with Lady Luck
Freeway cars and trucks
Freeway cars and trucks
Freeway cars and trucks
Written by: Tom Waits
Published by: Fifth Floor Music Inc. (ASCAP), ©1973
Official release: "Closing Time", Elektra Entertainment/ WEA International Inc., 1973 &
"Anthology Of Tom Waits", WEA/ Elektra, 1984
Arrangement and lyrics published in "Tom Waits - Anthology" (Amsco Publications, 1988/ Nuova Carisch, 2000)
Known covers:
On The Border. The Eagles, 1974. Elektra/ Asylum LP 1004 (re-released by Elektra Entertainment in 1990)
Some Day You Eat The Bear... Some Day The Bear Eats You. Ian Matthews, 1974. Elektra
Be True To You. Eric Andersen, 1975. Arista Records. Recorded in Los Angeles, 1974. Arista AL 4033 (re-released in 1997)
Connections. Richie Havens, 1980. Elektra/ Asylum 6E-242
The Soul Of Many Places. Iain Matthews. May, 1993. WEA/ Elektra
Cover Girl. Shawn Colvin. 1994. Columbia/ Sony 477240 2
Cover Girl - Extra!. Shawn Colvin. 1994. Columbia/ Sony promo only 3-track CD
Songs Of Tom Waits. Dolphin Blue. 1995. Self-released demo (Germany)
Boys On The Side: Original Soundtrack. Various artists. January 31, 1995. Arista
Freedom Sessions. Sarah McLachlan. March, 1995. MMB/ Arista
Step Right Up (The Songs Of Tom Waits). Various artists. November, 1995. Manifesto Records. Performed by Dave Alvin
Collection. Eric Andersen. September, 1997. Archive Records (same version as on: "Be True To You", 1975)
Fumbling Towards Estacy/ Freed. Sarah McLachlan. February, 1998. Classis Records
In de Orangerie. Acda & De Munnik. September 27, 1998. SMART 491 678 2 (Holland) Bonus CD with "Op Voorraad" (in Dutch: "Ol' '55")
Master Poets. Bernardo Lanzetti. 1999. Azzurra Music
Afternoon Delight. Steve Stefanowicz. 1999. Self-released
Extra Cocoon (All Access). K's Choice. January, 1999. DTM (Belgium)
Ol' "55. Acda & De Munnik. October 18, 1999. SMART 66831-1 Holland (CD single in Dutch: "Ol' '55")
Everybody Has A Dream. Mitchell Howard. 2000. Cling Peaches Music
Nach mir die Sintflut - Ambros singt Waits. Wolfgang Ambros. October 9, 2000. Ariol/ Gig Records 74321 797002 (in German: "Die Sunn geht boid auf")
Living In My Heart. Randa McNamara. July 24, 2001. Cornerstone
Ballads. Breit'N'Wark. March 13, 2002. Self-released
A Sigh, A Song. Lisa Bassenge Trio. August 19, 2002. Minor Music Records (Germany)
Homegrown. Nussbaumer/ Weber/ Kreil. 2003. Self-released
Bootleg 6. The Floating Men, 2003. Shade (live version)
Live at the City Lights Saloon. Pat Guadagno. 2004. Campbell Music
At This Moment. Karen Dunbar. June, 2004. Neon Records (Neon CD006, Scotland)
Something To Me. JJ Schultz band. 2005. Last Stop Records
Deep Forbidden Lake. Jazz Mandolin Project. May 3, 2005. Doyle Kos Dk.E.
Another Round. Dakota. September 17, 2005. Self-released
Dans Ton Lit. Simon Gerber. May 23, 2006. Langusta (Switserland)
The Scratch On My Vinyl Soul. Betsy Spivak. June 6, 2006. Self-released
PS: Döner. Various artists (performed by The Highway Angels). June 22, 2007. Döner Diskothek (Germany)
Rock & Poems. Massimo Priviero. November 1, 2007. Universal
American Garage. Don Campbell. November 8, 2007. Playbutton Records
From The Fountain. Queen Bees. January 5, 2009. Odeon/ Caroline (Norway)
Big Shoes. David Munyon. March 27, 2009. Stockfisch
From Dusk Till Dawn. Sass Jordan. September 1, 2009. Songs Of The South Records
Songs. Paul Harrington. February 26, 2010. Stereoplex Records

Waits performing "Ol' '55". With: Larry Taylor (upright bass) and Smokey Hormel (guitar, banjo and percussion). Taken from VH-1 Storytellers concert documentary at Burbank Airport, Los Angeles.
Notes:
(1) Live intro from Passims, Cambridge, November 10, 1974: "This a about a '55 Buick Roadmaster. I don't know if there's any real bona fide Buick owners out there tonight. But my goodness, that's an automobile that I swear by. It's a car that's seriously as slick as deer guts on the door knob. Climb aboard one of those suckers, make you feel like a new man. And eh... I always had these cars that I bought for like a hundred and twenty-five dollars. You sink 'bout thirty-five hundred into them, and you sell 'em for twelfe fifty or so. [A lot of noise adjusting the microphone] Rattle like a damned sewing machine... And eh... I stuck to the Buick line for several years. I had two Specials, one was a kind of... now how can I put this? It was kind of monkey brown and eh... monkey feces brown, you see what I mean. Two-tone. It was a lot of chrome, kinda looked like a Wurlitzer jukebox. And I had two of those Specials, the other was kinda vomit yellow, it [?]. And I had a couple of Centuries, finally I had a Super. And then I finally picked up on this Roadmaster, and lucky to get it! So this is called 'My Ol' '55'." (Transcribed by Ulf Berggren. Tom Waits eGroups discussionlist, 2000)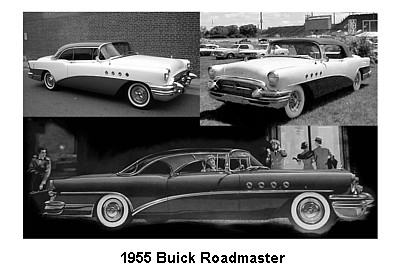 Live intro from Westchester, PA, 1976: "Here's a real old song for you. Actually, it's about the very first car I ever stole. You know... I don't know, I still remain somehow a victim of circumcision, in the sense that I have a tendency to be cursed with terminal car trouble. And I don't expect it to let up at all. I never paid more than a hundred and twenty-five dollars for a car. And I ain't about to change now. But I would like to have maybe a 1976 Chevrolet station wagon, and sand it down and primer the thing. [member of the audience shouts something] You saw me in a station wagon? (Yeah) Where did you see me in a station wagon? (something) In Philly? Yeah, I was in a station wagon once. (something) Oh, you mean it was there at the intersection? (Yeah, I was something, something out the window) You were the one, yeah! I'd like to have a big round of applause for my brother-in-law right there. Phil's been out of prison now for a couple of years, but... (No, they ain't caught me yet!) Yeah, I know, that child molesting charge really got you, didn't it? I mean after a second offense and everything, it's kinda hard to say, but... (No, lucky first time!) (or something) Eh... Well, this is eh..." (Transcribed by Ulf Berggren. Tom Waits eGroups discussionlist, 2000)
Live intro from Storyteller show, recorded April 1, 1999 in Los Angeles: "This is a song about an automobile. I had a '55 Buick Roadmaster when I was a kid. Actually, this really eh... was inspired by an old friend of mine named Larry Beezer, who... I was staying at the Tropicana Hotel, and I got a knock on the door very late and... Was that a clap for the Tropicana? Excellent! I don't think I got any new towels for the whole like nine years I was there. But I never asked, I didn't wanna upset anybody. This is about eh... What was it about again? It was about eh... It was about the car! All right, Beezer came over at about 2 a.m. He said, 'I'm on a date, and she's only seventeen, and I gotta get her back to Pasadena. And all I got left on the car is reverse.' I said, 'How can I help?' He said, 'I need gas money', and so he sold me a couple of jokes. He said, 'You can have these jokes, and you don't even have to tell folks that they're mine, cause you paid for 'em for chrissake!' And I said, 'That sounds like a good deal to me.' Anyway, he rode home, in reverse, on the Pasadena freeway. In the slow lane. I think they should give awards for that kind of thing! But anyway, it was a '55 eh... what was it? Was it a '55 Caddy?" (Transcribed by Ulf Berggren. Tom Waits eGroups discussionlist, 2000)
Tom Wairs (1975) on The Eagles' cover of Ol' '55: "I was in a bar one night and I ran into one of those guys and they said that they'd heard the record and they might want to do it on one of their records and then I was on the road for 3 months and I never heard anything about it and then it showed up on that album. I frankly was not that particularly crazy about their rendition of it. The song is about 5 years old, it's one of the first songs I wrote so I felt like it was kind of flattering that somebody wanted to do your song but at the same time I thought their version was a little antiseptic and then it got picked up by Ian Matthews and Eric Andersen - and I don't know, frankly I guess I'm a little more fond of my own version of it than I am theirs." (Source: WAMU Radio Interview. Date: Washington, DC. April 18, 1975)
Tom Waits (1976) on The Eagles' cover of Ol' '55: "Naw - I don't like the Eagles. They're about as exciting as watching paint dry. Their albums are good for keeping the dust off your turntable and that's about all." (Source: "Tom Waits: Would You Say This Man Was Attempting To Convey An Impression Of Sordid Bohemianism". New Musical Express (UK), by Fred Dellar. Date: June 5, 1976)
Louie Lista (2007) on The Eagles' cover of Ol' '55: "It put Tom on an entirely different level economically. The younger we were back then, the more likely we were to say, Oh, that guy sold out.' But in reality that kind of prosperity makes certain things possible.'Ol "55' gave Tom a certain prosperity and power that I think he used wisely." (Source: Louie Lista interview March 12, 2007 as quoted in "Lowside Of The Road: A Life Of Tom Waits" by Barney Hoskyns. Faber/ Broadway, 2009)
Barney Hoskyns (2009) on The Eagles' cover of Ol' '55: "So delighted was David Geffen that Asylum's brightest hopes had given Waits a leg-up that he called Bones Howe to propose the band record a new version of "Ol' '55" with Waits singing. "David said to me, 'Put this all together and get these guys in the studio,"' Howe remembers. "One by one the Eagles became unavailable, so I assembled a group of the current hot studio players and we went in to Heider's to cut this one side live. We were there most of the night and never got a really good perfor¬mance. I made a rough mix for David and took it to his office the next day. He agreed that we should forget it, and the tapes went into the Asylum vaults.' Given Waits' antipathy to everything the Eagles stood for, the only surprising thing is that he agreed to the idea in the first place. "In that group of people, Tom was the sort of turncoat,' says Howe. "Even in a group that had its back turned to the com¬mercial record business, he turned his back on them. In a lot of ways it was his way of becoming an individual away from individuals." (Source: "Lowside Of The Road: A Life Of Tom Waits" by Barney Hoskyns. Faber/ Broadway, 2009)
Barney Hoskyns (2009) on Waits's antipathy to the Eagles cover of Ol' '55: "The band's hackles quickly rose. I still remember Tom saying listening to the Eagles was like watching paint dry," says Jack Tempchin, whose song "Already Gone" was On the Border's euphoric opening track. "They read that and went, 'Well, okay, we ain't gonna record any more of his songs!"' Waits went even further in 1977, laying into the Eagles' peers and savaging lyrics by America and David Crosby. Not even Neil Young was spared. '(He's] another one who is embarrassing for displaying a third-grade mentality," Waits told ZigZag. "'Old man take a look at my life... 'That's real good." When, years later, I asked Waits about his comments, he seemed sincerely mortified. "I was a young kid , " he sighed. I was just corking off and being a prick. It was saying 'Notice me,'followed by 'Leave me the fuck alone,' sometimes in the same sentence." He added that he'd long since patched things up with Don Henley. But while one salutes the maturity of his regret, the young "prick" also deserves kudos for not playing along with the happy family conspiracy fostered by Asylum (which, let's not forget, briefly had even Waits' beloved Bob Dylan on its roster). As much as it served his career well in the long run, Waits' lack of diplomacy about his musical dislikes was endearing" (Source: "Lowside Of The Road: A Life Of Tom Waits" by Barney Hoskyns. Faber/ Broadway, 2009)
Glenn Frey (1999) introducing Ol' '55 at The Eagles Millenium show on New Year's Eve, 1999: "Tom didn't really like our version of 'Ol' '55' when it first came out. Then he got the check. And since then, Tom and I, we're really close"
(2) Lickety-split adv.: Lickety splickly. Fast; at great speed (Source: Dictionary Of American Slang, Wentworth/ Flexner)